The 15th Kobe University International Student Homecoming Day held
December 6, 2018
Info
Keywords: Event, International relations, People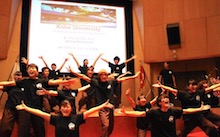 The 15th Kobe University International Student Homecoming day was held on October 27 in the Centennial Hall (Rokko Hall). This event first started in 2002, with the goal of providing an opportunity for international student alumni, current international students, other members of Kobe University and local people to come together under the philosophy of "people, knowledge, and returning". This year's event kicked off with an impressive opening performance from the Kobe University Yosakoi dance team "Yamabiko".
The opening greetings were delivered via a remote video conference system from Professor Naruo Kawai (Head of the International Student Section) who is currently on a long-term academic trip in Venice, Italy. Professor Kawai began with some personal anecdotes, such as his own alumni reunion in Venice after 20 years, and said, "In this era, when people across the world can connect instantly via the internet, we can create new possibilities by meeting and talking in person. I hope that this Homecoming Day will continue to provide opportunities to deepen the ties between Kobe University and our international student alumni."
To mark the 15th anniversary, a special event was held, titled "Considering international exchange and education at Kobe University – greeting graduates who are working at the forefront of their professions, and their former professors". In this session, moderated by Professor Jong Woo Park (Center for International Education), four alumni and their professors took the stage.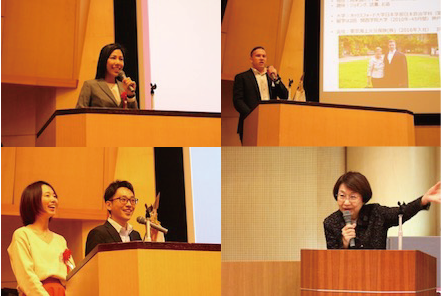 The Japanese Studies Program at Kobe University started in 2004. Graduates of this program were represented by Yuphawan Sopitvutiwong (currently Associate Professor at Chulalongkorn University in her native Thailand), Lawson Lancaster (from the UK, currently employed at Tokio Marine Nichido), former representative of international student support organisation TRUSS Hyunyong Lee (from the Republic of Korea, currently employed at P&G Japan), and Yuka Takahara (from Japan, currently employed as a high school English professor in Hyogo prefecture). The four alumni spoke about their memories of studying and activities in their student days, and how they were able to use these experiences after graduation.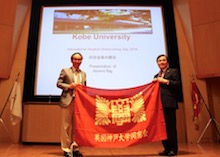 This was followed by Keiko Tanaka representing KOKORO-NET in Kobe, an organization that provides a support network for the families of international students and researchers. Ms Tanaka introduced their early initiatives for supporting these families. After the presentations, the graduates received warm comments from their former supervisors. It was a harmonious and friendly event from start to finish, providing a good opportunity to reflect on Kobe University's international education and exchange initiatives.

The session introducing Kobe University's Overseas Network featured an address from University President Hiroshi Takeda and the presentation of a new flag for the Kobe University Alumni Association in the United Kingdom.
After an introduction to the Overseas Network from Professor Park, Takatsugu Ochi (International Accounting Standards Board member and Faculty of Economics 1981 graduate) introduced the activities of the Kobe University Alumni Association in the United Kingdom. Mr Ochi explained that their activities, focused around London, started in earnest in 2011, and since then they have diversified to cover four main initiatives. He expressed his wishes to strengthen collaboration with Kobe University to contribute to the University's goal of equipping students with a global, outward-looking mindset, for example by facilitating company visits for Japanese exchange students to the United Kingdom.
In the KU World Festa session, seventeen international students walked the red carpet in Rokko Hall for a KU fashion collection event. The fashion show had three categories: national costumes (represented by Thailand, the Republic of Korea, China, and Nigeria), Halloween costumes, and cosplay. There was a festive atmosphere, and to finish everyone in attendance sung the Kobe University official song.
The Alumni Tea Party held afterwards provided a fun opportunity for international alumni and current international students, Japanese students, international student support organizations, and active and retired faculty members to mingle and chat.
Around 140 people gathered for this year's Homecoming Day. It was a significant event that truly embodied the philosophy of "people, knowledge, and returning".
(Center for International Education)