Kobe University participated in 5th China-Japan Conference on Education, Exchange and Cooperation
December 13, 2018
Info
Keywords: International relations, Collaborations, University partnerships
On November 26, the 5th China-Japan Conference on Education, Exchange and Cooperation took place at the Awaji Yumebutai International Conference Center in Hyogo Prefecture, Japan. This event is part of the celebrations to mark the 40th anniversary of the China-Japan Treaty of Peace and Friendship. It was attended by approximately 180 participants from 70 universities, including elite institutions such as Peking University and Fudan University. The occasion provided a valuable opportunity for promoting exchange between the two countries, with international exchange representatives from Japan and China sharing information about initiatives such as study abroad programs. From Kobe University the event was attended by Professor Noriyuki Inoue (Executive Vice President in Charge of International Exchange), Professor Zhi-wei Luo (Director of the Kobe University China Office) and Project Associate Professor Yoshiko Koishi (Program Coordination Section, Center for International Education).
The event opened with greetings by various representatives from China and Japan. Executive Vice President Noriyuki Inoue gave a keynote speech on the theme of "Internationalization of Japanese Universities – from the Perspective of Exchange with Chinese Universities" in which he presented the current internationalization levels of universities in Japan, Kobe University's internationalization initiatives, and potential exchange opportunities between Japanese and Chinese universities from an interdisciplinary perspective.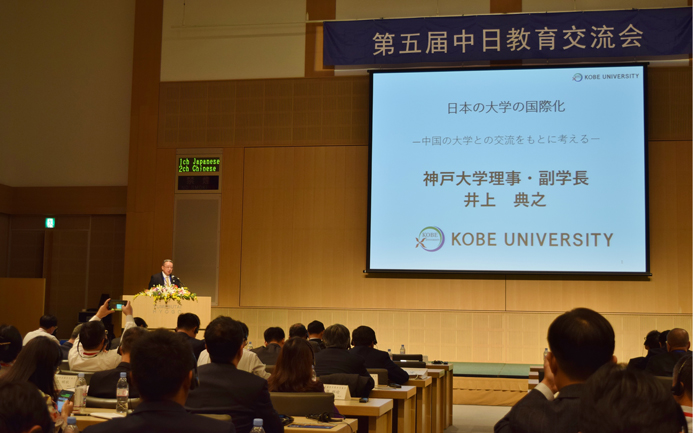 In the afternoon four events were held simultaneously: the China-Japan Conference on Education, Exchange and Cooperation, the Sino-Japanese University Presidents Forum, the China-Japan Medical Exchange Forum, and the China-Japan Student Global Venture Contest. During the China-Japan Education Conference on Education, Exchange and Cooperation, Kobe University representatives met with attendees from Chinese universities at various booths. It was a fruitful occasion, with the opportunity to exchange information about short-term programs with partner institutions such as Peking University, Fudan University, Sichuan University and Beijing Foreign Studies University.
On the following day (November 27) 36 participants from the event visited Kobe University. After an introduction to the University from Professor Luo there were enthusiastic questions from the attendees, demonstrating their high levels of interest in Kobe University.
This year's participation in the 5th China-Japan Conference on Education, Exchange and Cooperation provided a meaningful opportunity to develop exchange with Chinese universities encompassing a wide range of initiatives including study abroad programs.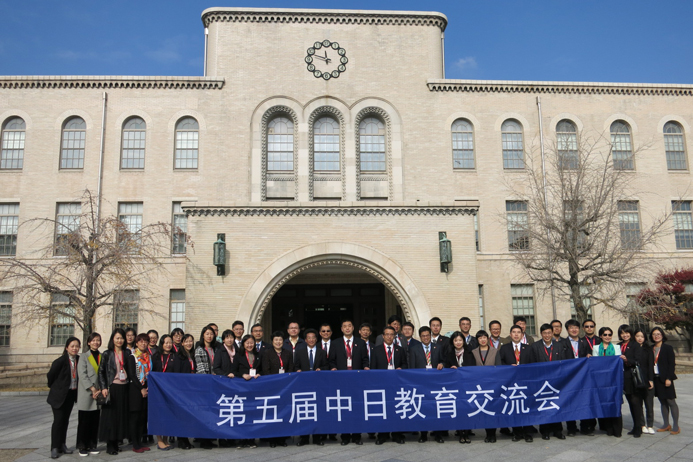 (International Affairs Planning Division)