Visit to the National Autonomous University of Mexico
December 13, 2018
Info
Keywords: International relations, Collaborations, University partnerships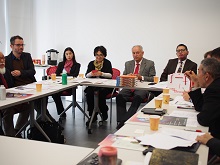 On December 6, Professor Hiroki Ogasawara, Associate Professor Hirotaka Inoue, and Associate Professor Masato Karashima from the Graduate School of Intercultural Studies and Researcher Rune Kobayashi from the Research Center for Promoting Intercultural Studies visited the National Autonomous University of Mexico (UNAM).
The visit started with an introduction to UNAM's education and research programs and the Japan-Mexico University President's Conference to be held at UNAM in September 2019, given by Dr. Francisco Trigo (Vice-Provost for International Affairs) and Dr. Imelda López (Director of Exchange and Promotion of Internationalization). This was followed by a discussion with researchers from the UNAM Program of Studies on Asia and Africa including Dr. Alicia Girón, who visited Kobe University in March this year. They shared opinions on research exchange via the Japan Society for the Promotion of Science (JSPS) Core-to-Core Program led by the Graduate School of Intercultural Studies, "Research on the Public Policies on Migration, Multiculturalization and Welfare for the Regeneration of Communities in European, Asian and Japanese Studies".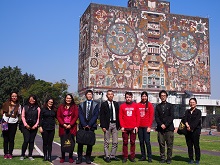 The delegation received a campus tour from students of Japanese at UNAM, including commentary on the stadium where the 1968 Olympics took place and murals designated as world heritage sites. Their visit ended at the UNAM Center for Foreign Education (CEPE), and they were guided around the Center's facilities by Secretary General of CEPE Gerardo Reza. They also had the opportunity to meet Japanese students studying Spanish at CEPE, including Kobe University alumni. The Graduate School of Intercultural Studies will continue to engage in academic exchange with UNAM, focusing on immigration research.
(Graduate School of Intercultural Studies)