Executive Vice President Dr. NAKAMURA Chiharu paid a courtesy call on Vice President of the National University of Laos (Sept. 24)
Nov 6, 2012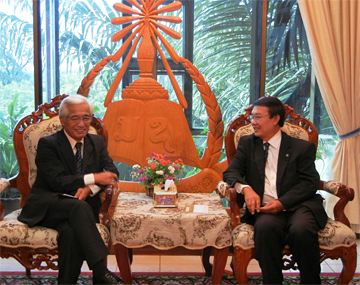 On Sept. 24, Dr. NAKAMURA Chiharu, Executive Vice President in charge of International Exchange, paid a courtesy visit to Assoc. Prof. Dr. Phetsamone Khounsavath, Vice President for Academic Affairs at the National University of Laos in the Lao PDR. Dr. Nakamura was accompanied by Prof. OGAWA Keiichi, Graduate School of International Cooperation Studies, and Prof. MITSUHASHI Yukari, Deputy Director for the Office for the Promotion of International Exchange at Kobe University. Assoc. Prof. Dr. Sengdeuane Waykone, Head of Planning and International Office at the National University of Laos, also attended the meeting.
Dr. Nakamura and Dr. Khounsavath engaged in a frank exchange of opinions in regard to further acceleration of collaborative interaction along with its historical exchange relationship. Dr. Nakamura expressed high hopes of further strengthening academic partnership by accepting Laotian students through the Strengthening Higher Education Project in the Lao PDR. Dr. Khounsavath extended his gratitude to Kobe University for continuous cooperation and support, and also expressed hopes and ambitions for further strengthening mutual collaboration.
Following the meeting, the delegation visited the Faculty of Economics and Business Administration at the National University of Laos, where Kobe University made significant contributions to its establishment. The faculty members, including several Kobe University graduate alumni, explained details of the educational programmes. They proceeded to a campus tour led by Dr. Phanhpakit Onphanhdala, Director of Graduate Division at the National University of Laos and President for the Kobe University Alumni Association in the Lao PDR, and had an opportunity to exchange opinions with students on campus.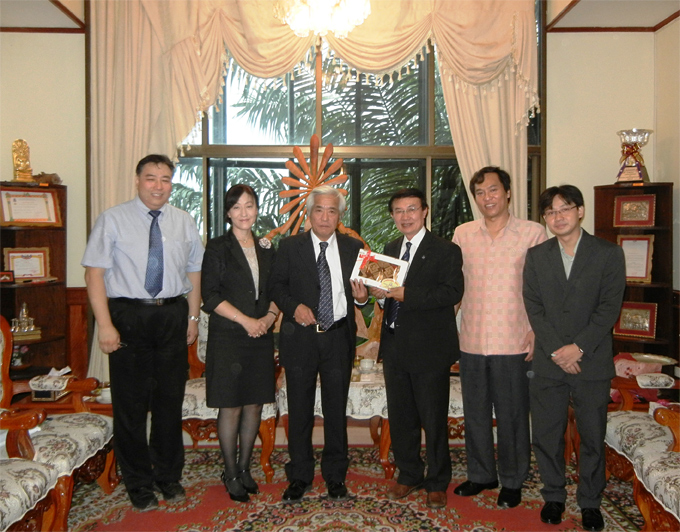 (Office for the Promotion of International Exchange)