Kobe University's GSICS conducted workshop training on education finance and administration to ministry of education officers in Vientiane, Lao PDR
Feb 3, 2014
The Japanese Ministry of Education, Culture, Science, Sports and Technology (MEXT) selected Kobe University's Graduate School of International Cooperation Studies (GSICS) to participate in a UNESCO Activities Support Project. The project theme is "Making Guidebook on Education Finance and Administration: Focused on Basic Education in Laos, Cambodia and Vietnam (LCV)". With Professor Keiichi Ogawa coordinating the project, GSCIS conducted workshop training to the ministry of education (MOE) officers from LCV in Vientiane, Lao PDR from January 20 to 22, 2014.
The main objective of the training is to review the guidebook (manual) on education finance and administration—whether the guidebook is relevant to the practical needs of the three countries' context—drafted by Kobe University researchers, UNESCO education specialist, and MOE planning directors in LCV.
At the start of the workshop, Professor Ogawa presented the objectives of the training and Kobe University's contribution in the area of education finance and administration in developing countries. This is followed by opening remarks from Mr. Lytou Bouapao, Vice Minister of Lao Ministry of Education and Sports (MOES) and Dr. Gwang Chol Chang, Head of Education Policy and Reform Unit at UNESCO Bangkok. Both Mr. Bouapao and Dr. Chang mentioned their collaboration with Kobe University and acknowledged Kobe University's contribution to international development and cooperation on education.
Twenty-six participants comprising MOE officers, UNESCO education specialists, and university researchers from LCV participated and generated active discussions throughout the training. The guidebook will be published by UNESCO Bangkok in English and translated into LCV languages; it will also be used for subsequent training of education ministry officers even at the district and provincial levels.
This workshop training was also presented in the UNESCO Bangkok's homepage (see related link below)
Related Links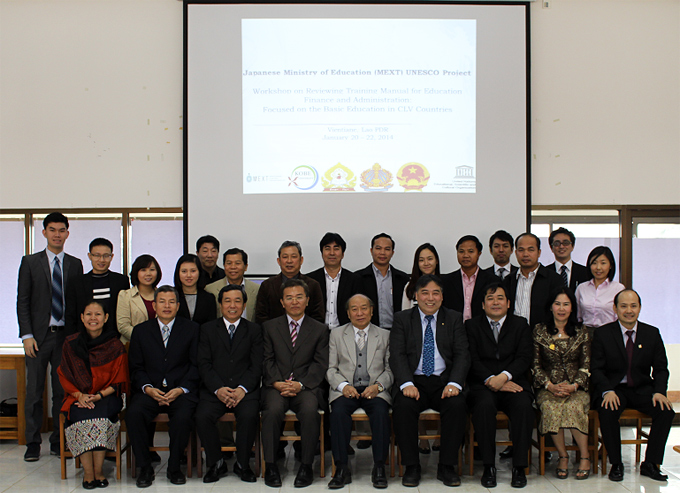 (Graduate School of International Cooperation Studies)