Kobe Sakura Meeting 2016
March 23, 2016
Event
Keywords: Event, Social sciences, Society
The Graduate School of Law will host a 3-day residential event from March 23-25: the Kobe Sakura Meeting 2016 (6th International Conference for Collaborative Research in International Relations and Comparative Politics).
This event is organized by the Graduate School of Law to create a platform for promoting international joint research in the fields of international relations and comparative politics. Approximately 30 people will participate, including students and researchers from Japan and researchers from the USA, the United Kingdom, Germany, Finland, and Kazakhstan.
Click here to see the event schedule.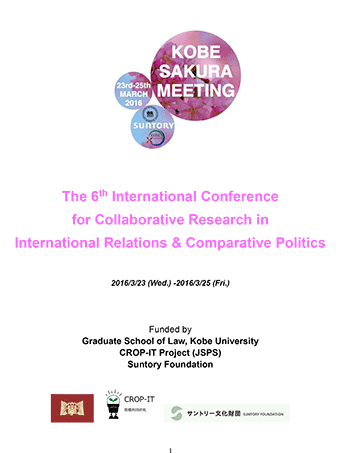 Date/Time
March 23-25, 2016 (Wednesday-Friday)
Contact
Professor TAGO Atsushi
E-mail: tago@dragon.kobe-u. ac.jp
* To avoid spambots, we have inserted a space before "ac.jp". Please delete the space when you email us.
(Graduate School of Law)