Kick Off Symposium for Honolulu Office of Kobe University
June 30, 2016
Event
Keywords: Event, Research, International relations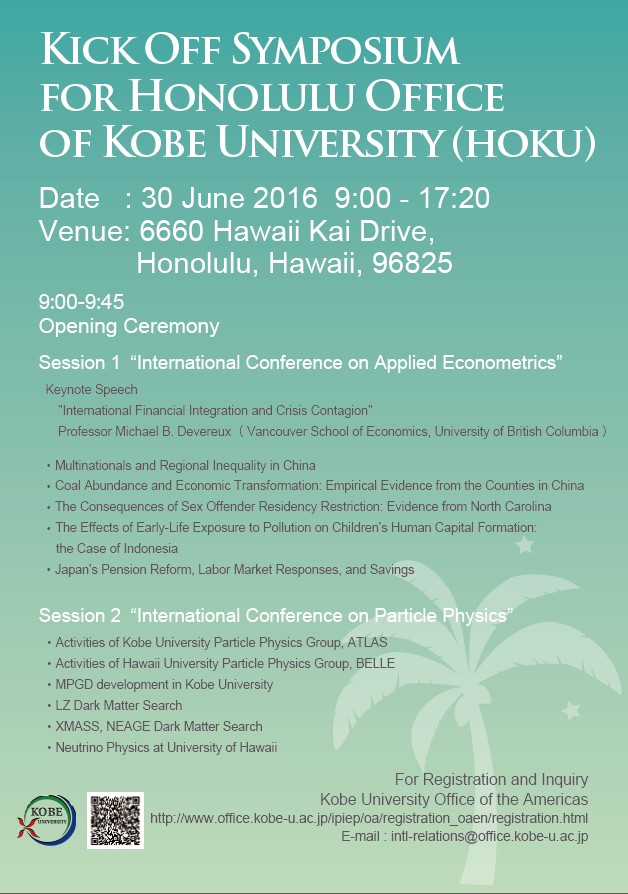 Kobe University will establish its first office in the United States of America. The Honolulu Office of Kobe University (HOKU) aims to further strengthen our relationship with American and Hawaiian institutions and promote joint programs for both research and education.
The HOKU will be under the direct supervision of a director, professors and staff members from the Office of the Americas, Kobe University. It would be a great pleasure to have your presence at this Symposium.




---
Date: June 30, 2016 (Thursday) 9:00-17:20
Place: 6660 Hawaii Kai Drive, Honolulu, Hawaii, 96825
Programme

9:00-9:45 Opening Ceremony
(Venue: Hideto Kono Seminar Room)
Moderator: Prof. Ken-Ichi SHIMOMURA, Director, Office of the Americas
Session I 10:00-17:15
"International Conference on Applied Econometrics"

Session II 10:00-16:30
"International Conference on Particle Physics"

Please see below for the details.
http://www.office.kobe-u.ac.jp/ipiep/events/20160630_en.html
(International Affairs Plannning Division)