The Conferral Ceremony of Doctor Honoris Causa
October 16, 2017
Event
Keywords: Event, Collaborations, Award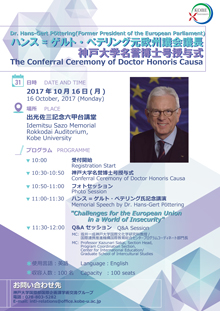 The Conferral Ceremony of Doctor Honoris Causa
Dr. Hans-Gert Pöttering(Former President of the European Parliament)
Date:
16 October, 2017 (Monday)
Venue:
Idemitsu Sazo Memorial Rokkodai Auditorium, Kobe University
Rokkodai-cho 1-1, Nada-ku, Kobe, Japan
Programme:
Conferral Ceremony of Doctor Honoris Causa
Photo Session
Memorial Speech by Dr. Hans-Gert Pöttering
"Challenges for the European Union in a World of Insecurity"
Q&A Session
Official Language:
 English
Contact:
International Affairs Planning Division, Kobe University
Tel: +81-78-803-5282
Email: intl-relations@office.kobe-u. ac.jp
Note: To avoid spambots, we put a space before "ac.jp," so please delete the space when you email us.
We look forward to your participation in the ceremony.
(International Affairs Plannning Division)