Grauate School of Law : Summer School
-Kobe SALAD 2019-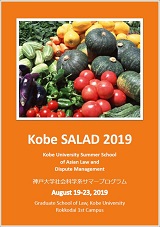 The annual Summer School of Asian Law and Dispute Management ("SALAD") will be held at Kobe University in August.
The summer program is dedicated to the young generation in Asia who will encourage the rule of law and develop mutually-beneficial businesses networks for peace and prosperity. Kobe SALAD promotes mutual trust based on understanding and appreciation of the values deriving from sustainable diversity in Asia. To this end, all the lecturers are carefully selected among top academics and practitioners in law and business from various Asian jurisdictions.
Kobe SALAD is open to all students, no matter their academic focus, who are interested in the sound development of cross-border business networks in Asia and the rest of the world. Students from Japan, Korea, China, Macau, Vietnam and Malaysia are expected to enroll.
Overview
Date: Mon 19 - Fri 23, August, 2019
Venue: Room 163, 2nd Bld. Rokkodai 1st Campus, Kobe University [MAP No.31]
For participation, registration is needed.
Please refer to HERE for further information. 
Contact
(Graduate School of Law)