Campus Tour for International Students
October 3, 2019
Event
Keywords: Event, International relations, Students
Welcome to Kobe University!
Student PR Ambassadors organize a Campus Tour for International Students.
General Information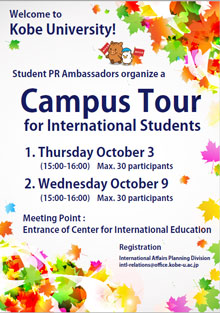 Date and Time

 1. Thursday October 3 (15:00-16:00)
 2. Wednesday October 9 (15:00-16:00)
  *Max. 30 participants (each day)



Meeting Point

 Entrance of Center for International Education,
 Rokkodai 2nd Campus, Kobe University [MAP No.102]



Registration

 International Affairs Planning Division
 Email: intl-relations@office.kobe-u. ac.jp
 Note: To avoid spambots, we put a space before "ac.jp,"
 so please delete the space when you email us.
(International Affairs Planning Division)