CAMPUS Asia Students Exchange Program Report
Kobe University students who participated in the Double Degree Program at Korea University and Fudan University will give a presentation about their experiences as exchange student. No registration is required.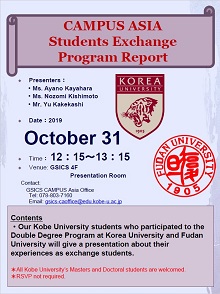 Date
October 31 (Thursday), 2019, from 12:15 to 13:15
Venue
Presentation Room, 4th Floor, GSICS, Kobe University [No.40 on the Campus Map (Rokkodai 1st Campus)]
Topic
CAMPUS Asia Students Exchange Program Report
Eligibility
All Kobe University master and doctoral students
Language
English
Sponsors
Campus Asia Program, Kobe University
Graduate School of International Cooperation Studies
Contact
CAMPUS Asia Office
Email: gsics-caoffice [at] edu.kobe-u.ac.jp
*To prevent malicious and automatic collection of e-mail addresses, we have inserted extra space before "ac.jp." Please note that the space should be removed before e-mailing.
(Graduate School of International Cooperation Studies)