Briefing session for CAMPUS Asia Plus Program Application (Fall 2022)
October 5, 2022
Event
Keywords: Event, University partnerships, Grants & funding, Students, Education
CAMPUS Asia Plus Program (Ministry of Education Inter-University Exchange Project, Multidisciplinary Education Program for Careers on Management Experts) is calling for applicants who wish to study at the Korea University Graduate School of International Studies (KU GSIS) from March 2023. The application period from October 3rd to 11th, 2022.

Please refer the newest Application Guidelines available at Kobe University Global Education Management System (GEMs) or CAMPUS Asia Plus ProgramHomepage. (Flight fare will be covered)
CAMPUS Asia Office will organize an application briefing session on Wednesday October 5th, 2022. No registration is required so please feel free to come along.
Briefing Session Details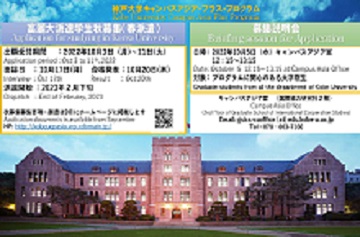 Date
October 5, 2022 (Wednesday) from 12:15 to 13:15


Venue
Campus Asia Office, Second floor of Kobe University's Graduate School of International Cooperation Studies (GSICS) [No.40 on the Campus Map (Rokkodai 1st Campus)]


Eligibility 
Master's and doctoral students belonging to all departments of Kobe University


Language
English and Japanese


Contact 
Kobe University CAMPUS Asia Office, GSICS, Kobe University
E-mail: gsics-caoffice[at]edu.kobe-u.ac.jp
*To prevent malicious and automatic e-mail address collection, we have inserted an extra space before "ac.jp." Please remove this space when e-mailing us.
(Graduate School of International Cooperation Studies)