120th Anniversary of Kobe University / 30th Anniversary of GSICS: Open Seminar with Prof. Timo Koivurova on Arctic Science Diplomacy
November 9, 2022
Event
Keywords: Event, Collaborations, Environment, Geography, Science & environment
The Polar Research Cooperation Centre (PCRC), Graduate School of International Cooperation Studies will hold an open seminar on Science Diplomacy in the Arctic on November 9th, 2022.
In this seminar, Professor Timo Koivurova, University of Lapland, Finland and Visiting Professor of Kobe University (November, 2022-March, 2023) will give the lecture.
Professor Koivurova is a leading expert in Arctic legal issues, and he will discuss about the future of Arctic Science Diplomacy in the Arctic Council after the Russian Invasion of Ukraine.
Following his lecture, Professor Koivurova, Ambassador Keizo Takewaka (Ministry of Foreign Affairs of Japan), and Professor Hiroyuki Enomoto (National Institute of Polar Research) will discuss expectations regarding the potential contribution of Japan to Arctic Science Diplomacy, in a panel discussion chaired by Professor Shibata, Director of the PCRC.
The lecture by Professor Koivurova and the following panel discussion will be conducted in English.
Please register via the seminar website.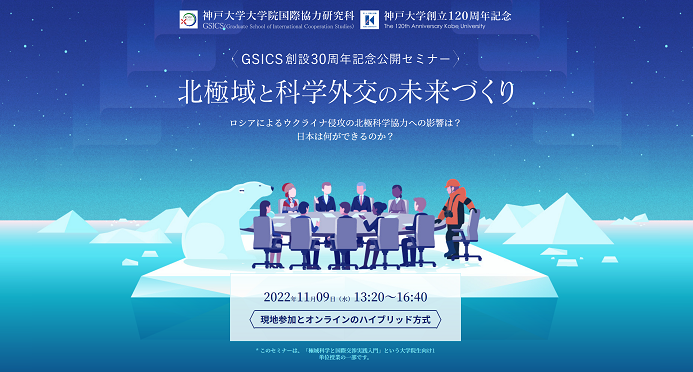 Open Seminar Detail
Date and Time
November 9th, 2022 (Wed) 13:20~16:40
*Professor Koivurova's lecture and panel discussion will be around 14:10〜14:50


Venue
Presentation Room, 4th floor of Kobe University's Graduate School of International Cooperation Studies (GSICS)
2-1 Rokkodai-cho, Nada-ku, Kobe 657-8501 Japan (Rokkodai 1st Campus)
Access & Map


Format of Meeting
In person and Online


Language
Most of this open seminar is held in Japanese, but Prof. Koivurova's lecture and
the subsequent panel discussion are in English.


Registration [Free of charge]
Please register via the seminar page by:
     -October 31st for in-person participation
     -November 7th for online
https://polarresearch.org/arcs2_seminar2022/ (Japanese)


Host
The Polar Research Cooperation Centre (PCRC)
Graduate School of International Cooperation Studies, Kobe University


Sponsor
Kobe University Rokkodai Foundation
Kobe University Strategic International Collaborative Research Grant (Type C Creating Joint Research)


Inquiries
Mami Furuhata (Project Assistant Professor)
The Polar Research Cooperation Centre (PCRC)
Graduate School of International Cooperation Studies, Kobe University
E-mail: arcs2intlaw[at]gmail.com
(Graduate School of International Cooperation Studies)