Polar Cooperation Research Centre (PCRC) International Law Seminar Series: 22nd Open Seminar "Arctic governance in light of Ukraine crisis: Finland's new role in the Arctic"
November 28, 2022
Event
Keywords: International relations, Law, Geography, Politics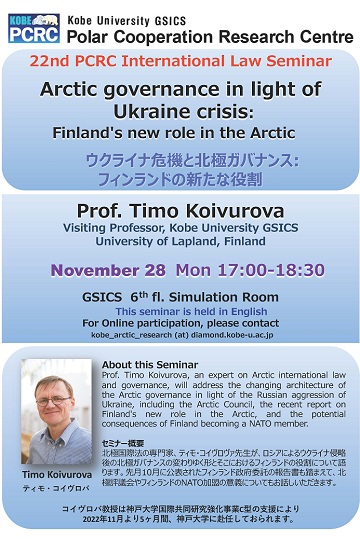 The Polar Cooperation Research Centre (PCRC) will hold an open seminar by Prof. Timo Koivurova on November 28. He is a visiting professor at Kobe University (under the Kobe University Strategic International Collaborative Research Grant (Type C Creating Joint Research)) and a research professor at the University of Lapland.
Prof. Koivurova, an expert on Arctic international law and governance, will address the changing architecture of Arctic governance in light of Russian aggression in Ukraine. Topics include the Arctic Council, the recent report on Finland's new role in the Arctic, and the potential consequences of Finland becoming a member of NATO.
Don't miss this chance to discuss these topical issues in person with Prof. Koivurova at GSICS!
Event Details
Date and Time:
November 28th, 2022 (Monday) 17:00~18:30
Venue:
Simulation Room, 6th floor of Kobe University's Graduate School of International Cooperation Studies (GSICS)
2-1 Rokkodai-cho, Nada-ku, Kobe 657-8501 Japan (Rokkodai 1st Campus)
Access & Map

Meeting Format:
In-person for those who live in Japan.
If you cannot come to the venue, please contact the PCRC to receive a ZOOM link.
Language:
English
Registration [Free of charge]:
Please contact the address below to register.
E-mail: kobe_arctic_research (at) diamond.kobe-u.ac.jp
Host:
The Polar Research Cooperation Centre (PCRC), Kobe University
Sponsor:
Kobe University Strategic International Collaborative Research Grant (Type C Creating Joint Research)
Inquiries:
The Polar Research Cooperation Centre (PCRC), Kobe University
E-mail: kobe_arctic_research (at) diamond.kobe-u.ac.jp
(Graduate School of International Cooperation Studies)