Kobe University US-Japan Collaboration Fair 2014
Mar 3, 2014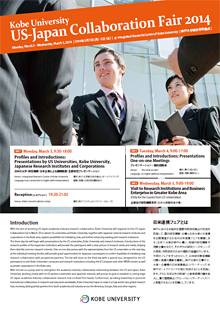 With the aim of boosting US-Japan academia-industry research collaboration, Kobe University will organize its first US-Japan Collaboration Fair in March 2014, where US universities and Kobe University, together with Japanese national research institutes and corporations in the Kobe area, explore possibilities for initializing new, and further enhancing existing joint research endeavors. The three-day fair will begin with presentations by the US universities, Kobe University and research institutes. Introductions of the research profiles of the respective institutions will provide the participants with a clear picture of research seeds and needs, helping them identify common research interests. One-on-one discussions with the representatives from the US universities on the next day, at the individual meeting booths, will provide good opportunities for Japanese counterparts to confirm feasibility of initializing new research collaboration with prospective partners. The fair will close on the third day with a special tour, designed for the US participants to visit Kobe University's campuses and research institutions including the K-Computer and other RIKEN centers as well as private corporations in the Kobe area.
With this fair as a jump-start to strengthen the academia-industry collaborative relationship between the US and Japan, Kobe University, working closely with its US partner universities and Japanese industry, will pursue its goal to establish a cutting-edge US-Japan academia-industry collaborative research hub on Kobe Port Island. Furthermore, by taking leadership to promote international collaboration in research and education worldwide, Kobe University hopes to make it a truly world-class global research hub, involving distinguished partners from both academia and industry across the Americas, Europe, Asia and other regions.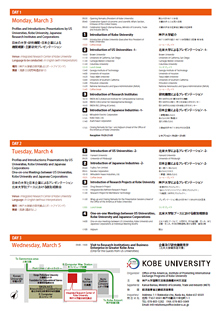 Date

Monday, March 3 - Wednesday, March 5, 2014

DAY 1

Monday, March 3, 9:30-18:00
Venue: Integrated Research Center of Kobe University
Language to be conducted: in English (with interpretation)

Profiles and Introductions: Presentations by US Universities, Kobe University, Japanese Research Institutes and Corporations
Reception 19:20-21:05 / Venue: Kobe Concerto (dinner cruise)

DAY 2

Tuesday, March 4, 9:00-17:00
Venue: The same as Day1
Language: in English (without interpretation)

Profiles and Introductions: Presentations
One-on-one Meetings

DAY 3

Wednesday, March 5, 9:00-19:00

Visit to Research Institutions and Business Enterprise in Greater Kobe Area (Only for the Guests from US Universities)

For more information, visit the Official Program Site or check out this flyer.

Organizer

Office of the Americas, Institute of Promoting International Exchange Programs of Kobe University

Supported by

Kansai Bureau, Ministry of Economy, Trade and Industry (METI)

Inquiries

Address: 1-1 Rokkodai-cho, Nada-ku, Kobe 657-8501
TEL: 078-803-5282, FAX: 078-803-5049
Email: intl-relations@office.kobe-u. ac.jp
*To prevent malicious and automatic collection of e-mail addresses, we have inserted extra space before "ac.jp." Please note that the space should be removed before e-mailing.