A Courtesy Visit from the President of Xiamen University
On April 10, President Chongshi Zhu of Xiamen University paid a courtesy visit to President FUKUDA Hideki. Among the guests from Xiamen University were Professor Xingjun Liu, Dean of the College of Materials; Professor Chenxu Wu, Dean of the School of Physics and Mechanical Engineering; Professor Duanduan Chen, Deputy Dean of the School of Foreign Languages; and Ms. Hongbo Yu, Deputy Director of the Office of International Cooperation and Exchange. From Kobe University, Professor SAITO Akira from the Graduate School of Law and Director of the Center for Asian Studies, Professor IWATSUBO Kentaro from the Graduate School of Economics, and Professor HUANG Lin from the Graduate School of Business Administration, participated in the meeting.
Xiamen University is a national university established in 1921. Located in Xiamen, Fujian province, approximately 43,200 students are enrolled at the university, which is actively undertaking international exchange activities with overseas partner universities. The purpose of their visit was to further promote exchange activities with universities in Japan. President Fukuda had a warm reunion with President Zhu who he last met during a visit to Xiamen University in November 2013 to participate in the 8th Japan-China President Forum.
During the meeting, President Fukuda and President Zhu explained about international exchange activities being undertaken by their universities. A lively discussion followed concerning which academic fields, collaborating with one another, can achieve the most effective output. It is expected that the two universities will actively pursue academic exchanges moving forward.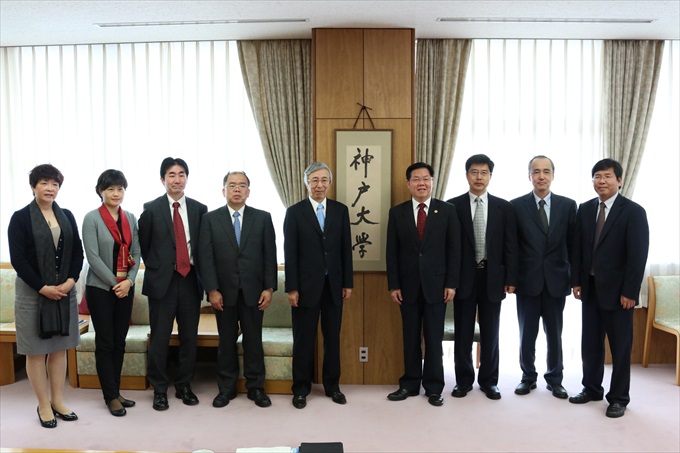 (International Affairs Planning Division)