President Fukuda Paid a Courtesy Visit to the Rector of KU Leuven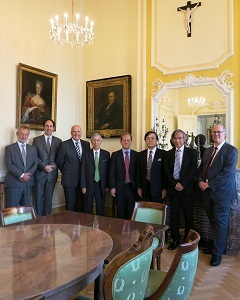 President FUKUDA Hideki paid a courtesy visit to Rector Rik Torfs of KU Leuven, one of Kobe University's partner universities, on October 13.
Established in 1425, KU Leuven is one of the oldest universities in Europe. The level of education and research at KU Leuven is highly esteemed by the world: it is considered the best university in Belgium and is ranked 55th in the 2014-2015 Times Higher Education World University Rankings.
In 2010, Kobe University reached an inter-university agreement with KU Leuven and active exchanges have been underway across the university since. These activities include student exchanges and double degree programs with Kobe University's Graduate School of Intercultural Studies and the Graduate School of Economics, and research collaboration with Kobe University graduate schools including the Graduate School of Science, Graduate School of Engineering and Graduate School of Agricultural Science.
Kobe University officials attending the meeting included Professor TAKEDA Hiroshi, Executive Vice President in charge of Research, and Professor KUBO Masahiro, Special Adviser to the President. They confirmed the current status of exchange activities and explored ways to advance collaborative efforts between the two universities. Both universities agreed to promote collaboration to strengthen their partnership.