KUBEC Workshop on Brain Circulation Project held (Oct.13)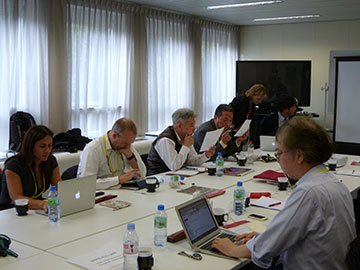 On Oct. 13, the Graduate School of Humanities at Kobe University held a workshop titled Varieties of "Mitate": Fiction, Social Reality, and Symbolism at the Kobe University Brussels European Centre (KUBEC). The workshop is part of a Graduate School of Humanities' program under the research theme Innovative Japanese Studies through International Cooperation. The program was adopted in FY2013 aspart of JSPS's Strategic Young Researcher Overseas Visits Program for Accelerating Brain Circulation project and renamed the Program for Advancing Strategic International Networks to Accelerate the Circulation of Talented Researchers in FY2014. Through this program, young researchers have been dispatched for long terms to universities in Europe to conduct collaborative research, including the University of Oxford, Universität Hamburg, and the Università Ca' Foscari Venezia.
The workshop was planned to center on presentations from three young researchers at Kobe University who are visiting Università Ca' Foscari Venezia to conduct collaborative research on the keyword Mitate, a traditional Japanese termmeaning to see something or to resemble others. Among the participants were Professor Bonaventura Ruperti and Associate Professor Marcella Mariotti fromthe Università Ca' Foscari Venezia, Professor Bjarke Frellesvig and Associate Professor Linda Flores from the University of Oxford, and Professor JörgQuenzer from the Universität Hamburg. From Kobe University, Professor MASUMOTO Hiroko, Professor YUI Kiyomitsu, Professor KAZASHI Nobuo, Professor FUKUNAGA Susumu, and Associate Professor HIGUCHI Daisuke participated in the workshop.
Six researchers presented their research findings and demonstrated how Mitate is organically functioning within cultural and social phenomena. During the Q&A session,the participants examined the opportunities and challenges of conducting research from the perspective of Mitate. In particular, contrasting feedbackfrom various viewpoints was provided to young researchers following their presentations and they benefitted from the thought-provoking discussions thattook place.
(Graduate School of Humanities)