Kobe University Hosted the Second Annual Conference: The Asian Forum for Leaders of Japanese Studies (AFJAS)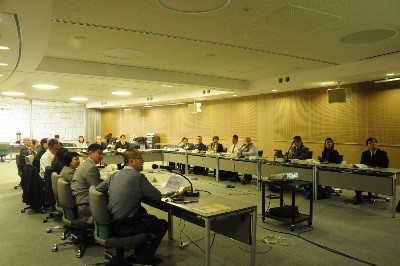 Kobe University hosted a 2-day conference on the 17th and 18th of November titled Second Annual Conference: The Asian Forum for Leaders of Japanese Studies (AFJAS) in Prestigious Asian Universities – How Japan internalized Western Cultures and Values. The Conference was organized by the Center for Asian Studies at the Institute of Promoting International Exchange Programs at Kobe University, and held at the Awaji Yumebutai International Conference Center as well as Centennial Hall at Kobe University.

A total of 14 researchers gathered for the Conference. Researchers included seven distinguished leading researchers and seven young researchers of Japanese Studies from prestigious Asian universities, which have been putting considerable efforts into Japanese Studies. They discussed together the significance and role of Japanese Studies within Asia.

Day 1 was held at the Awaji Yumebutai International Conference Center in Awaji Island. Professor SAITO Akira, Director of the Center for Asian Studies, gave the opening remarks, and fourteen researchers and faculty members from Kobe University exchanged their research themes and discussed the roles and significance with a broad-based and long-term vision.
Young researchers gave presentations on various topics from different perspectives including an analysis report on Chinese students' motivation to learn Japanese, how Taiwan internalized western culture and values under Japanese colonial rule and its limitation, and the impact of Euro area stock return on the volatility of Japanese stock return.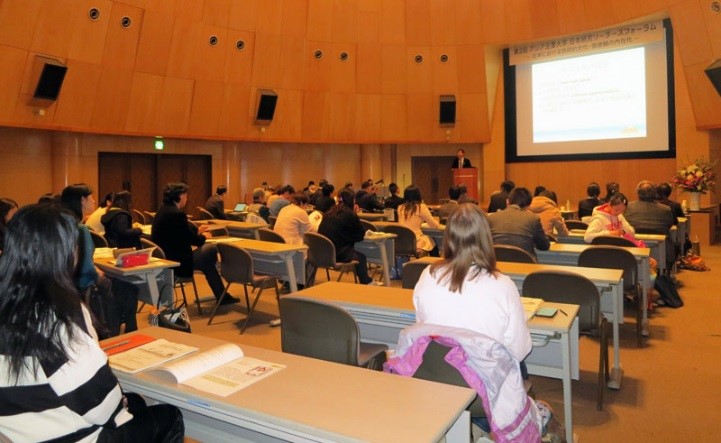 Day 2 was held at the Centennial Hall at Kobe University. Nearly 50 people attended this conference. Professor INOUE Noriyuki, Executive Vice President in charge of International Exchange, gave the opening remarks, and Session 1 took place under the theme of New Waves of Japanese Studies in Asia. Four researchers gave keynote speeches including Professor Ng Wai-ming, Director and Associate Dean for the Research Center for Comparative Japanese Studies at the Chinese University of Hong Kong (Hong Kong, China); Professor Asadayuth Chusri, Chairman for the Japanese Section at the Department of Eastern Languages, Faculty of Arts at Chulalongkorn University (Thailand); Professor Tangaa Munkhtsetseg, Department of Asian Studies at the School of Science at the National University of Mongolia (Mongolia); and Professor Chen Duanduan, Deputy Dean for the College of Foreign Languages and Cultures at Xiamen University (China).

Professor Ng Wai-ming discussed Japanese cultural trends after the World War II, highlighting on the combination of Japanese spirit with western learning by Osamu Tezuka and Akira Kurosawa. Professor Asadayuth Chusri introduced Japanized western culture observed in Thailand and analyzed possible causes why Thai can internalize Japanese culture. Professor Tangaa Munkhtsetseg introduced the history of Japanese Studies in modern Mongolia, and analyzed the current state and future directions. Professor Chen Duanduan introduced how the department developed its Japanese language education programs and teaching methodology at Xiamen University in achieving fostering research-focused students with Japanese proficiency skills.
Session 2 was held under the theme of Japan as the Bridge Connecting West and East? Four researchers gave keynote speeches including Professor Xu Yiping, Director of the Beijing Center for Japanese Studies at Beijing Foreign Studies University; Professor Michael Palmer, Dean and Professor of Law at Shantou University Law School; and Mr. Jeff Leong, Senior Partner for Jeff Leong, Poon & Wong Advocates and Solicitors.
Professor Xu Yiping introduced Japanese internalization of western cultures from the linguistic borrowing perspective and discussed the importance of preserving multi-regional cultures to form a prosperous and better world. Professor Michael Palmer discussed similarities and differences of legal procedures between China and Japan on protection against domestic violence, and examined issues surrounding the role of mediation. Mr. Jeff Leong explored what Japanese spirit led to the rapid economic growth of the nation, and sought the possibility whether the Japanese spirit can help Japan find its way out of the deflation trap.
Discussion session followed, and researchers discussed their presentations and answered questions from the audience.
The 2-day Conference marked an important step toward understanding the significance and role of Japanese Studies within Asia, and has become an opportunity to promote a furthering of knowledge sharing among researchers as well as to promote exchange and establishment of networks among researchers.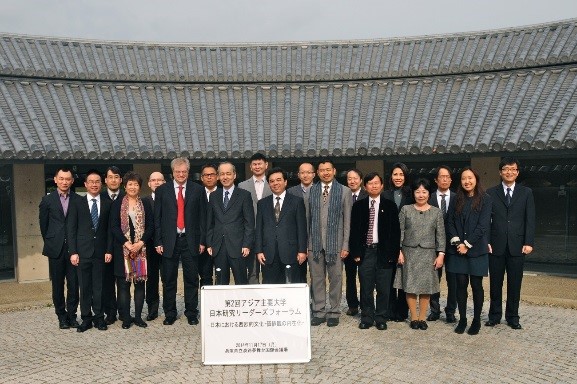 (International Affairs Planning Division)