Courtesy Visit from JICA Training Course Participants
July 14, 2015
Info
Keywords: Info, International relations
On 9th July 2015, trainees participating in the Japan International Cooperation Agency (JICA) special training course "Education Finance and Administration: Focused on Basic Education Quality, Internal Efficiency, and Equity - (A)" paid a courtesy visit to Professor INOUE Noriyuki, the Executive Vice President in Charge of International Exchange at Kobe University. The meeting was also attended from the Kobe University side by Professor YOTSUMOTO Kenji (Dean of the Graduate School of International Cooperation Studies) and the Kobe University coordinator for this training course Professor OGAWA Keiichi (Graduate School of International Cooperation Studies).

This course was designed for developing countries that need stronger initiatives in order to raise standards of education and eradicate gender-based discrimination in education. Based on regional devolution policies, participants studied which education, finance and administrative policies would help to eradicate discrimination and raise the quality and internal efficiency of education. The course was attended by 23 Ministry of Education officials from 14 countries: Malawi, Myanmar, Uganda, Laos, Nepal, Iraq, Afghanistan, Ghana, East Timor, Papua New Guinea, Ethiopia, Tanzania, Cambodia, and Pakistan. Starting in June, for 6 weeks the participants attended lectures and workshops held by specialists in the Graduate School of International Cooperation Studies and JICA's Kansai International Center. They also gained insights into Japanese education, regional education initiatives, and Japan's current education, finance and administration policies through visits to government and educational institutions.

During the meeting, the course participants commented that by attending specialist lectures, visiting the Japanese Ministry of Education and Board of Education, and seeing examples of education in Japan, they had deepened their knowledge of educational administration and regional education initiatives. They expressed their intentions to use these experiences and the action plans they created during the course to improve education systems in their home countries.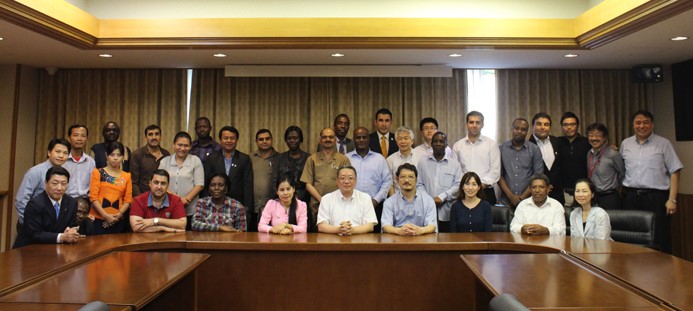 (International Affairs Planning Division)