Lecture by the President of the German Bundesrat held at Kobe University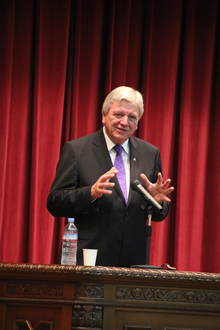 On 3 July, Mr. Volker Bouffier, the President of the German Bundesrat, visited Kobe University and gave a lecture titled 'Federal Republic of Germany – a strong partner in the EU'.
Mr. Bouffier was born in Gießen in the state of Hesse, and since 1978 he has been acting as an executive member of the state office of Hesse. He has been serving as the Minister-President of Hesse since August 2010 and also as the President of the German Bundesrat since November 2014.
Approximately 150 people –including Kobe University's students and faculty members, and public participants – attended and listened to the lecture of the President, who leads the country which has the greatest population and a strong economic power in Europe.
At the outset of the lecture, Mr. Bouffier touched upon the fact that, as Japan is a strong partner of Europe in political, economic, financial and academic terms, earlier during his visit to Japan he had held a meeting with members of the cabinet including Prime Minister Shinzo Abe and had discussed in particular the strengthening of ties between Hesse and Japan. Noting that Kobe is famous as a cosmopolitan city, he also expressed his condolences for the victims of the Great Hanshin Earthquake 20 years ago and expressed his respect for the city's having overcome the Earthquake and having achieved recovery. Moreover, he spoke highly of the activities organised by Kobe University's Centre for EU Studies.
In the lecture, Mr. Bouffier explained the characteristics of the federal community, noting on the federal system that it respects the respective independence of the states and the republic and that the principle of complementarity is functioning effectively, as can be seen in the creation of innovations and consequently in the enhancement of economic development. According to him, this federalism, or the politics of complementarity, is a similar feature of the EU,and it is by virtue of this that the EU, a peace community established after overcoming the War, is maintaining its harmony. Mr. Bouffier stated that Germany, situated at the centre of Europe not only populationally and economically but also geographically, is a strong partner of the EU, responding in cooperation with other countries to the problems of contemporary society, such as the Greek and Crimean crises. He also emphasised the indispensability of the efforts of individual countries and the importance of working complementarily at national and community levels on the problems of contemporary society, such as immigration, terrorism, and nuclear issue, which no single nation can solve on its own.
Following the post-lecture Q&A with the audience, Mr. Bouffier and the accompanying officials from both the federal and Hesse governments discussed the possibility of future exchange with Kobe University's President, Executive Vice-Presidents, and faculty members.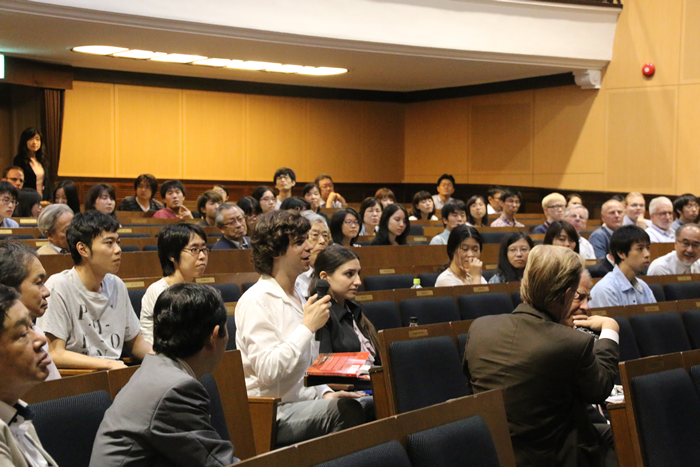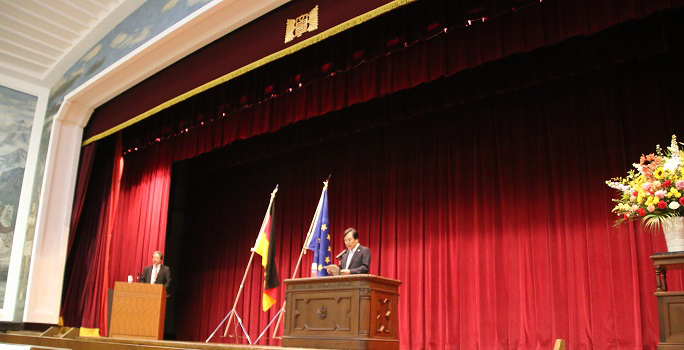 (International Affairs Planning Division)