The 3rd Japan-Vietnam University Presidents' Conference held at the University of Danang (28-29 September 2015)
October 9, 2015
Info
Keywords: Info, International relations
On the 28th and 29th September 2015 the 3rd Japan-Vietnam University Presidents' Conference was held at the University of Danang in Vietnam. This year the conference theme was "Cultivating HumanResources for the Future of Vietnam and Japan". Executive Adviser to the President Professor YOSHII Masahiko and Executive Vice President Professor OGAWA Matsuto attended from Kobe University.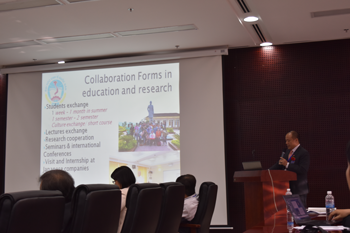 The conference began with opening addresses from President of the University ofDanang Professor Tran Van Nam and President of Kyoto University Doctor YAMAGIWAJuichi. This was followed by welcome addresses from Deputy Minister of the Ministryof Education and Training of Vietnam (MOET) Professor Bui Van Ga; Japanese Embassy in Vietnam Minister Mr. YANAGI Jun; and Director for InternationalAnalysis, Higher Education Bureau, Ministry of Education, Culture, Sports, Science and Technology, Japan (MEXT) Mr. TAURA Hiroki. The first morning of the conference continued with the signing ceremony, keynote speeches, and a presentation. In the afternoon Executive Adviser to the President Professor YOSHII Masahiko spokeon "New Kobe Ways to Enhance Student Mobility" at the parallel session titled "Research Collaboration and Utilizing Research Outcomes for the Benefit of Society."

After the parallel sessions, individual bilateral meetings were held between universities. Kobe University met with Hue University of Agriculture and Forestry, Vietnam National University of Agriculture, Hanoi Medical University and Vietnam National University – Ho ChiMinh City, International University to exchange information and discuss opportunities for collaboration.

On the second day, the 3rd Japan-Vietnam University Presidents' Conference drew to a close with a plenary session and closing remarks. 28 universities from Japan and 41 universities from Vietnam attended this conference to discuss the development of human resources in Japan and Vietnam. This clearly demonstrates that Japanese higher education is attracting a high level of interest within Vietnam.

Kobe University established a Liaison Base at Foreign Trade University in Hanoi, Vietnam on 13th April 2015, and on 7th September 2015 a symposium was held in Hanoi to commemorate this landmark event. Building on the sharedvision for human resources development which was demonstrated at this conference, Kobe University is expected to further strengthen its ties with Vietnamese educational institutions.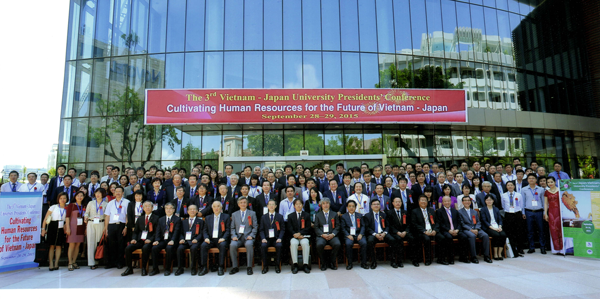 (International Affairs Planning Division)