The 9th Japan-China University Presidents Conference
November 6, 2015
Info
Keywords: Info, International relations
The 9th Japan-China University Presidents Conference was held at Kyushu University for two days, on the 28th and 29th of October 2015. University President TAKEDA Hiroshi, Director of the Centre for Asian Studies Professor OGATA Yasushi, and Director of the Kobe University China Office Professor HUANG Lin represented Kobe University at the Conference.
152 attendees from 18 Japanese universities and 17 Chinese universities discussed "The Internationalization of Universities and its Contribution to the Society" and "Joint Development of the Next Generation of Human Resources and Academic Collaborative Research in Japan-China Universities", and affirmed their commitment to facilitating academic and student exchange between the two countries.
The second Japan-China Student Forum was held in parallel with the Presidents Conference. 49 student representatives from both China and Japan attended the Forum. Ms. YAMAMOTO Sai (Faculty of Intercultural Studies) represented Kobe University, participated in the Forum and enthusiastically discussed the theme of "How can students collaborate to the internationalization of a Japanese and Chinese university?"
President TAKEDA also had individual meetings with Executive Vice President Zou Yajun of Nanjing University, Executive Vice President Li Yansong of Peking University, Executive Vice President Chen Jian-Guo of Huazhong University of Science and Technology, President Zhu Chongshi of Xiamen University, Executive Vice President Zhu Guanglei of Nankai University, and Executive Vice President Liu Jian-Chang of Northeastern University, and discussed how to further promote research and student exchange activities as well as joint research collaboration.
On the final day, the "Fukuoka Declaration on the Internationalization of Japan-China Universities in the Global Era" was adopted. Northeastern University in the city of Shenyang, Liaoning Province, China will host the next Forum in 2017.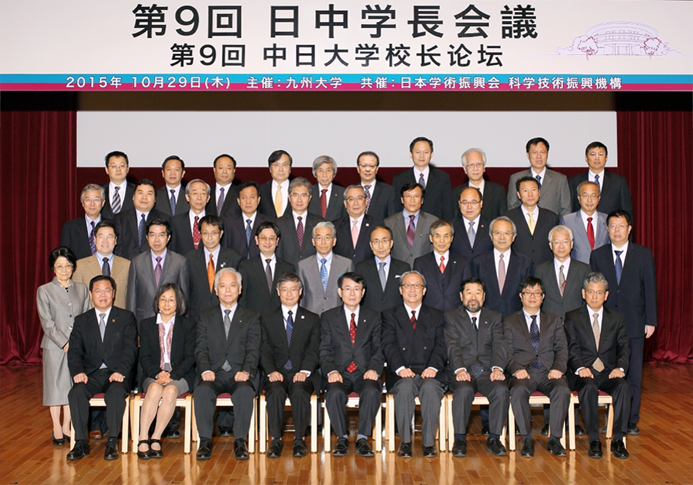 (International AffairsPlanning Division)