Kobe University Advisory Board Meeting Held in Brussels
November 25, 2015
Info
Keywords: Info, International relations
On 19 October, Kobe University held an Advisory Board meeting at the Kobe University Brussels European Centre in Belgium. His Excellency Mr. Herman Van Rompuy (Advisory Board member and former President of the European Council) attended the event.
The meeting was chaired by Professor YOSHIDA Ken-ichi (Brussels European Centre Director), and Professor TAKEDA Hiroshi (Kobe University President) gave the opening speech. This was followed by presentations on the University's research activities and international academic initiatives respectively from Professor OGAWA Matsuto (Executive Vice President in Charge of Research and Industry-University Cooperation) and Professor INOUE Noriyuki (Executive Vice President in Charge of International Exchange).
His Excellency Mr. Van Rompuy commented, "I am delighted to have been awarded the post of Professor Emeritus by Kobe University [in 2010], and to be chosen as a member of this Advisory Board. I hope I can contribute to raising Kobe University's international profile." His Excellency also praised Kobe University's initiatives as part of Horizon 2020, the EU's research funding program, and encouraged the University's active participation in student and staff exchange programs such as Erasmus+.
Kobe University will continue to hold Advisory Board meetings in its overseas offices, and work to strengthen our governance.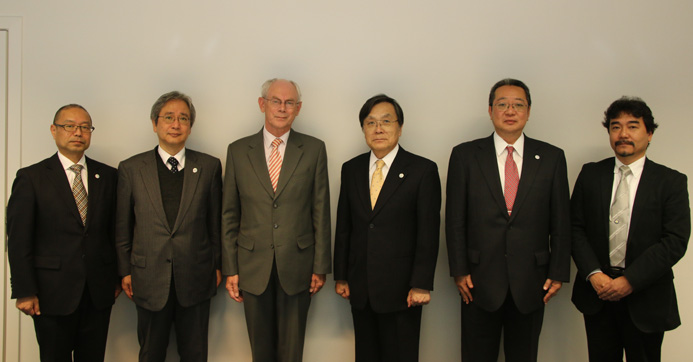 From Left: Mr. YOSHII Kazuo (Executive Vice-President in Charge of General Affairs, Finance and Facilities); Professor OGAWA Matsuto (Executive Vice-President in Charge of Research and Industry-University Cooperation); His Excellency Mr. Herman Van Rompuy (Former President of the European Council); Professor TAKEDA Hiroshi (President); Professor INOUE Noriyuki (Executive Vice-President in Charge of International Exchange); Professor YOSHIDA Ken-ichi (Director of the Kobe University Brussels European Centre)
(International Affairs Planning Division)