KUBEC Workshop on Innovative Japanese Studies
December 24, 2015
Info
Keywords: Info, International relations, Humanities, Culture, media & publishing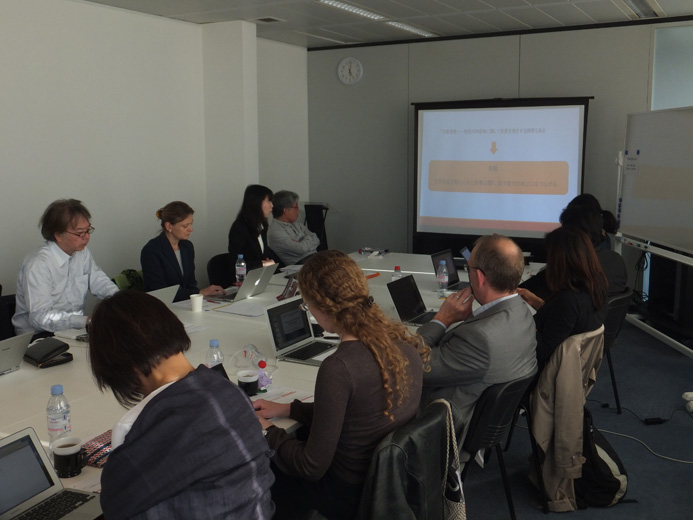 The Graduate School of Humanities at Kobe University has run the "Strategic Young Researcher Overseas Visit Program for Accelerating Brain Circulation" since 2013, supported by the Japan Societyfor the Promotion of Science (JSPS). In 2014, it was renamed the "Program forAdvancing Strategic International Networks to Accelerate the Circulation of Talented Researchers". With the vision of "Innovative Japanese Studies through International Cooperation", the Graduate School of Humanities launched collaborative research projects with the University of Oxford, the Universityof Hamburg, and the Ca' Foscari University of Venice in three sectors: Japanese corpus linguistics, Japanese teaching methods, and Japanese culture and"Mitate" (a traditional Japanese term meaning to see something or to resemble others). Through this program, promising young researchers are dispatched for long-term assignments to each university to carry out collaborative research projects. As a part of this program, a workshop was held at the Kobe University Brussels European Centre on October 10-11, 2015.
Among the workshop participants were Professor Frellesvig, Associate Professor Flores, and Associate Professor Guestfrom the University of Oxford, Lecturer Sugihara from the University ofHamburg, Associate Professor Miyake and Lecturer Mariotti from the Ca' FoscariUniversity of Venice, and three of the four young researchers currently visitingour partner universities. From Kobe University, Professor MASUMOTO, Professor KAZASHI,Professor FUKUNAGA, Professor SUZUKI, Professor SANEHIRA, Professor MATSUMOTO,and Professor ICHIZAWA participated in the workshop.
The workshop was organized into three sessions corresponding with the three collaborative research projects under the Program. Session 1 was titled "New View of Mitate Theory", session 2"New Methodology of Japanese Language Teaching", and session 3"Current Situation of Japanese Language Research". The young visitingresearchers currently engaged in collaborative research projects delivered the core presentations, and faculty members from each university supplemented these with presentations of their own research results.
The workshop consisted of ninepresentations over two days. Following each stimulating presentation,commentators provided additional information from different perspectives anddiscussed the presentation content. This workshop provided an opportunity toexamine the three collaborative research projects from new viewpoints andverify their results.
(Graduate School of Humanities)