Courtesy Visit from Hanyang University
December 25, 2015
Info
Keywords: Info, International relations, University partnerships
On November 20, a delegation from Hanyang University led by President Young Moo Lee visited Kobe University. Hanyang University is one of Kobe University's partner institutions. Established in 1939 as a private engineering institute (Dong-A Engineering Institute), it has developed into a comprehensive university with approximately 35,000 students studying at the two main campuses in Seoul and Ansan. Hanyang University also provided a venue and co-hosting arrangements for the Kobe University Global-Link Forum in Seoul on November 25-26, 2011.

During the morning of the courtesy visit President Lee, who is also a professor of the Department of Energy Engineering at Hanyang University, attended the International Workshop on Membrane in Kobe (iWMK 2015) and gave a presentation on Hanyang University's current membrane research activities. The Graduate School of Engineering at Kobe University and the College of Engineering at Hanyang University concluded a Memorandum of Understanding for Student Exchange in 2002.

After the presentation, the delegates paid a courtesy visit to Kobe University President Professor TAKEDA Hiroshi. Attending the meeting from the Hanyang University side were Professor Ki-Jeong Lee (Vice President for International Affairs) and two representatives from the International Affairs Department. Attending from the Kobe University side were Professor OGAWA Matsuto (Executive Vice President in Charge of Research and Industry-University Cooperation), Professor OGATA Yasushi (Director of the Centre for Asian Studies), and Professor MATSUYAMA Hideto (Graduate School of Engineering). During the meeting, Professor MATSUYAMA introduced the dynamic research exchange activities taking place between the Kobe University Center for Membrane and Film Technology and Hanyang University. Following this, both sides discussed industry-university collaboration, summer school programs, and double degree programs, and affirmed their intentions to increase exchange between the two universities.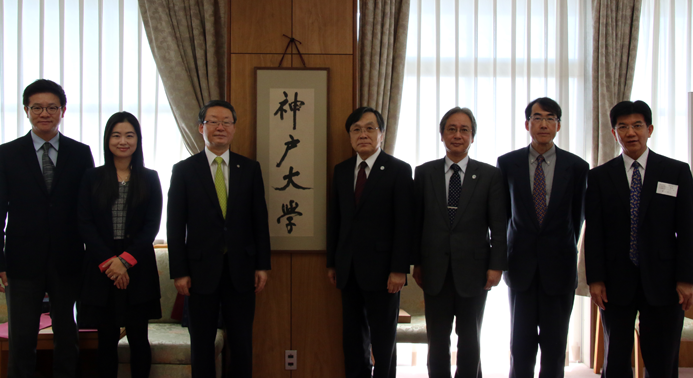 (International Affairs Planning Division)