Seminar held on EU education funding programme Erasmus+
February 19, 2016
Info
Keywords: Info, International relations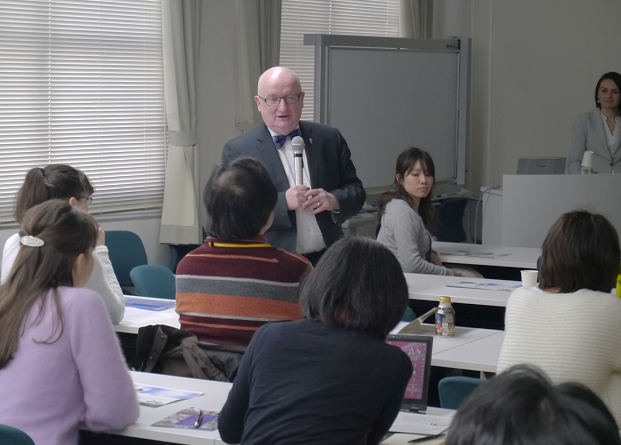 On February 2 Kobe University held a seminar on Erasmus+, an EU programme for education, training, youth and sport. The seminar took place in the Kobe University Centre for Collaborative Research and Technology Development (CREATE).
Europe is a key region for Kobe University's internationalisation strategy. The University is actively participating in European networks of institutions that support education and academic activities, and we are already part of several Erasmus+ projects. From now on participation in these initiatives will become increasingly vital. To support these efforts, Kobe University invited Head of International Relations at the Jagiellonian University in Poland Dorota Maciejowska to give a presentation on Erasmus+ and the Jagiellonian University's Erasmus+ experiences. The Jagiellonian University is one of Kobe University's partner institutions and has experience coordinating various Erasmus+ programmes.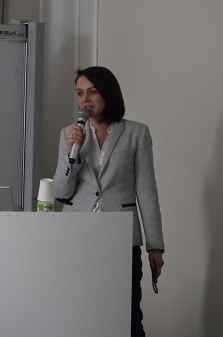 The Jagiellonian University concluded an Academic Cooperation Agreement and Memorandum of Understanding for Student Exchange with Kobe University in 2013. Both the Jagiellonian University and Kobe University are members of the EU-Japan Advanced Multidisciplinary Master Studies project (EU-JAMM) consortium, a network that offers double degree master programmes and student and faculty mobility among selected partner universities in the EU and Japan, supported by the Japanese Ministry of Education, Culture, Sports, Science and Technology and the European Commission. The Jagiellonian University is one of Kobe University's active exchange partner universities in Europe, and in October 2015 Kobe University established its Liaison Office in Krakow within the Jagiellonian University Centre for Comparative Studies of Civilisations. This Office allows Kobe University to further its collaborations with education and research institutes in Central and Eastern Europe.
At the start of the seminar, Jagiellonian University Vice-Rector Prof. dr hab. Andrzej Mania gave an overview of the international exchange activities between our universities and expressed his hopes for further collaboration opportunities provided by Erasmus+ projects. Prof. dr hab. Andrzej Mania also gave a lecture earlier the same day at the Kobe University Graduate School of Humanities on "Strategy of Internationalisation at the Jagiellonian University".
During the seminar, Head of International Relations Maciejowska provided an explanation of Erasmus+ and examples of Erasmus+ programme selection and coordination at the Jagiellonian University. Following this the participants asked a number of questions and held an active discussion. Approximately 30 faculty and staff from Kobe University participated in the seminar. This event offered an opportunity to deepen understanding of Erasmus+ within Kobe University and facilitate more international collaborations with the Jagiellonian University.
(International Affairs Planning Division)