Courtesy visit from Katholieke Universiteit Leuven
March 28, 2016
Info
Keywords: Info, International relations, University partnerships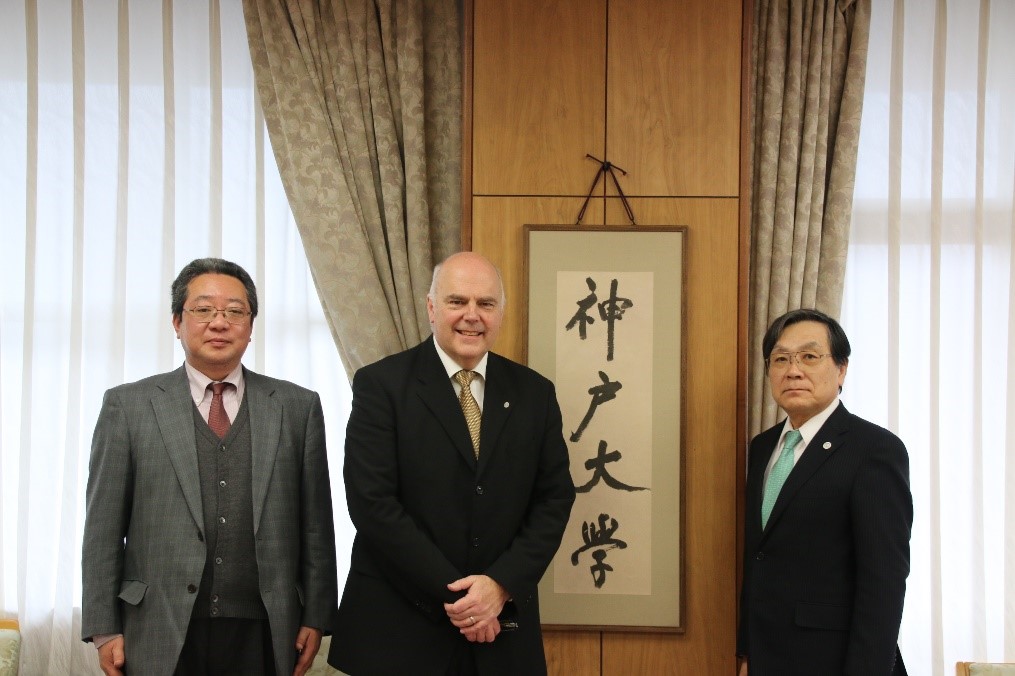 On February 29, Vice-President of Katholieke Universiteit Leuven (KU Leuven) Professor Danny Pieters visited Kobe University. Founded in 1425, KU Leuven is one of the oldest national comprehensive universities in Belgium, with campuses in Brussels, Gent and Antwerp besides its main buildings in Leuven. Kobe University and KU Leuven signed an Agreement of Academic Co-operation in January 2010. Student exchange between the universities has been very active under various Memoranda of Understanding for Student Exchange at the faculty level and also within the Double Degree programmes conducted by the Graduate School of Intercultural Studies and Graduate School of Economics.

Professor Pieters came to Japan to visit the Japanese partner universities with a strong relationship with KU Leuven, and Kobe University was his first destination. He first visited the Centre for EU-Japan Collaborative Education (EJCE). Professor HAGIWARA Taiji, former director of EJCE and professor at the Graduate School of Economics, introduced the Kobe University Programme for European Studies (KUPES) and talked about past academic activities between Kobe University and KU Leuven. Professor Pieters then visited the Graduate School of Science and met Professor NOUMI Masatoshi, who is involved in collaborative research with researchers from KU Leuven. In this meeting, Professor NOUMI explained the Kobe-Leuven workshop on Geometry and Integrable Systems held in 2014. Following this meeting, Professor NAKAGAWA Takehisa (Dean of the Graduate School of Law), Professor KADOMATSU Narufumi, Professor MASUJIMA Ken, and Professor SEKINE Yuki welcomed Professor Pieters. They exchanged information on the programmes organized by the Faculty and Graduate School of Law in each university and discussed future cooperation opportunities for student exchange.

In the afternoon, Professor Pieters paid a courtesy visit to Kobe University President Professor TAKEDA Hiroshi. Professor INOUE Noriyuki (Executive Vice President in Charge of International Exchange) also attended the meeting. They discussed their common goals for further collaboration and the development of joint research and education programmes between Kobe University and KU Leuven. After the meeting with President Takeda, Professor Pieters visited the laboratories and Integrated Research Center to explore further possibilities for collaborative research. At the laboratory of Professor LUO ZhiWei in the Organization of Advanced Science and Technology, he received an explanation on robotic systems and health science. In the Integrated Research Center, Director of the Integrated Research Center Professor TAURA Toshiharu introduced the flagship research projects, and guided him around the laboratories of the Integrated Bio-Refinery Research Project and Manufacturing Technology Association of Biologics.
(International Affairs Planning Division)