Collaborative Workshop between the Center for Asian Academic Collaboration, Kobe University and the Institute of Modern History, Academia Sinica
April 28, 2016
Info
Keywords: Info, International relations, Collaborations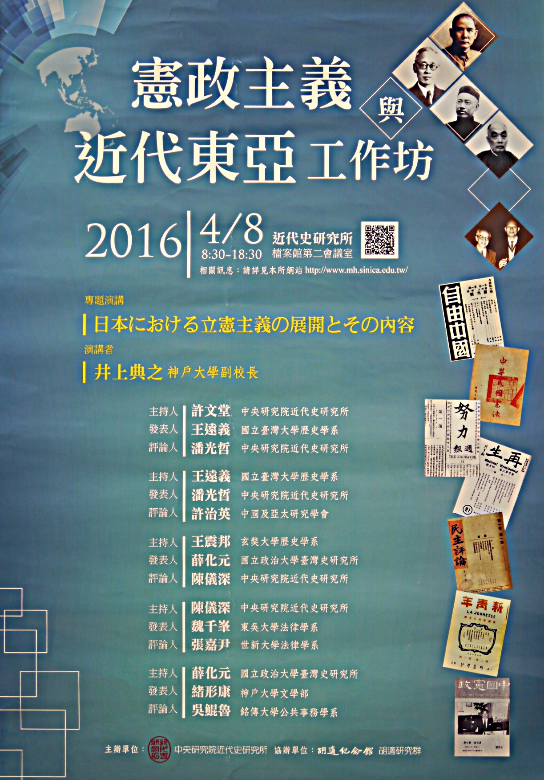 On April 8, a workshop titled "Constitutionalism and Modern East Asia" was held at the Institute of Modern History, Academia Sinica. The workshop was cohosted by the Center for Asian Academic Collaboration, Kobe University and the Institute of Modern History, Academia Sinica.

Academia Sinica, established in 1928 for the development of mathematical sciences, life sciences, humanities and social sciences, relocated to Taiwan in 1948. Since then, while expanding its scope, it has been engaging in education and research in various fields. As represented by the Inter-faculty Agreements of Academic Exchange concluded on June 20, 2000 and July 13, 2007 between the Kobe University Research Institute for Econom-ics and Business Administration and Academia Sinica, the institutes have been fostering a close relationship. Prior to the workshop, Dr. Li Ta-chia (Deputy Director of the Institute of Modern History, Academia Sinica) expressed his hopes for further research collaboration with Kobe University.

The workshop began with a keynote speech by Professor INOUE Noriyuki (Kobe Univer-sity Vice-President in Charge of International Exchange) on "The development of a con-stitutionalism in Japan". Five academic presentations followed, including a speech deliv-ered by Professor OGATA Yasushi (Director of the Centre for Asian Studies) on "Constitu-tional Politics and Normative Constitution in Modern China". The presentations were each followed by lively discussions.

During the concluding discussion of the workshop, Vice-President INOUE proposed a strategy for developing future academic exchange between Kobe University and Academ-ia Sinica. Dr. Pan Kuang-che (Director of the Hu Shih Memorial Hall, Institute of Modern History) suggested potential areas for advancing collaborative research on constitutional-ism in modern East Asia.

Before and after the workshop, Vice-President INOUE and Distinguished Research Pro-fessor Wang Fan-sen (Vice-President of Academia Sinica) discussed bilateral academic exchange and agreed to make the necessary preparations for concluding the agreement of academic exchange and cooperation. Kobe University will continue to promote interna-tional dialogue and exchange with research institutes.

(International Affairs Planning Division)