China International Education Exhibition Tour 2016 (Beijing and Jinan, China)
May 17, 2016
Info
Keywords: Info, International relations, Students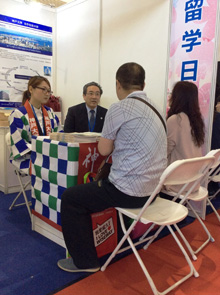 The China International Education Exhibition Tour 2016 hosted by the Chinese Service Center for Scholarly Exchange (CSCSE), Ministry of Education, was held on May 7-8 at the National Agriculture Exhibition (Beijing) and on May 10 at the Hyatt Regency Jinan (Jinan). The Exhibition is the largest education fair in China. Over 300 universities and institutions from 30 different countries and regions participated as exhibitors, including 36 Japanese universities and institutions.
Kobe University's booth attracted approximately 210 visitors (150 in Beijing and 60 in Jinan). Representatives from Kobe University answered questions covering admissions, eligibility requirements, education level, English-taught courses, scholarships and living expenses. While there were various prospective students at the Beijing site, ranging from high school to graduate school level, the majority of visitors at the Jinan site were high school students and their parents. Some participants spoke Japanese and demonstrated a proactive attitude towards study in Japan.
Exhibition feedback suggests that Kobe University will continue to welcome large numbers of Chinese students.
(International Affairs Planning Division)