The First Beijing Foreign Studies University – Kobe University Joint Symposium was held
June 28, 2016
Info
Keywords: Info, International relations, Collaborations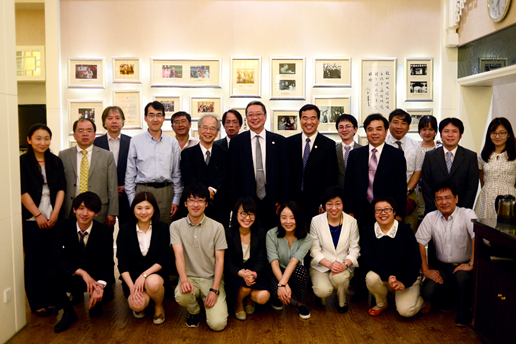 On June 18‐19, the First Beijing Foreign Studies University – Kobe University Joint Symposium was held at Beijing Foreign Studies University in China. The Symposium is part of an initiative by the Kobe University and Beijing Foreign Studies University International Collaborative Research Base, which opened on April 1, 2016. This event was held to promote collaborative research in the social sciences and humanities.
The first day began with opening remarks from Professor XU Yiping (Director of the Beijing Center for Japanese Studies, Beijing Foreign Studies University) followed by opening speeches from Professor YAN Guohua (Vice President, Beijing Foreign Studies University) and Professor INOUE Noriyuki (Vice-President in Charge of International Exchange and Director of the Institute for Promoting International Partnerships, Kobe University).
Breakout Session 1, under the theme of "Comparison of Japanese and Chinese Development Models", started with a keynote speech from Professor HUANG Lin (Graduate School of Business Administration, Kobe University) on "Opportunities and Challenges of the Ageing Society with Fewer Children". This was followed by presentations from members of the Beijing Center for Japanese Studies Professor SONG Jinwen, Professor ZHOU Weihong and Associate Professor DING Hongwei on welfare system reform and community-based welfare issues in Japan, new principles of welfare pluralism, and turning points and upgrade of Japan-China economic trade cooperation.
Breakout Session 2 dealt with the theme of "Japanese Studies in International Relations". Associate Professor PAN Lei (Beijing Center for Japanese Studies, Beijing Foreign Studies University) started the session with a presentation on the Emperor Tenmu's image in Nihonshoki. Members of the Kobe University Graduate School of Humanities followed, with presentations from Professor FUKUNAGA Susumu, Professor KAZASHI Nobuo, Associate Professor KAJIO Fumitake and Associate Professor ISHIYAMA Yuji on achievements of The Tale of Genji and gender norms in the Heian era, the nuclear age and the Kyoto School, the third world's representation and the hypothetical in Ishihara Shintaro and Oe Kenzaburo, and distinctive features of the contemporary pronunciation of kanji.
On the second day, PhD candidates from both universities gave presentations on their research. Q&A sessions were held during each breakout session across the two days, and questions and comments from the audience prompted active discussions.
This event is expected to further encourage mutual exchange in research and education between Kobe University, Beijing Foreign Studies University, and other universities in China. Next year's symposium will be hosted by Kobe University, with the aim of promoting the discovery and cultivation of outstanding researchers.
(International Affairs Planning Division)