Kobe University establishes new office in Honolulu
July 5, 2016
Info
Keywords: Info, International relations, Collaborations
On June 30, 2016 Kobe University established the Honolulu Office of Kobe University (HOKU) within the Japan-America Institute of Management Science (Fujitsu-JAIMS). The new office will be a base for academic collaboration with the Americas. It is Kobe University's sixth overseas office and our first in the United States, following the China Office (2008), the Brussels European Center (2010), the Hanoi Liaison Base (April 2015),the Liaison Office in Kraków (December 2015) and the Kobe University and Beijing Foreign Studies University International Collaborative Research Base (April 2016).
To commemorate the opening of HOKU, Professor TAKEDA Hiroshi(President), Professor YUI Kiyomitsu (Executive Assistant to the President in Charge of International Collaboration) and Professor SHIMOMURA Ken-ichi (Director, Office of the Americas) from Kobe University visited Hawaii and participated in the sign unveiling ceremony for the new office.
A kick-off symposium for the new office was also held in conjunction with the unveiling ceremony. The symposium opened with a speech from President TAKEDA, who expressed his gratitude to Fujitsu-JAIMS for their cooperation in establishing the office and his hopes that the new base would enable further collaboration with the Americas and the pan-Pacific region. His remarks were followed by a congratulatory speech from Mr. KOKUBUN Kazunari (Head of Hawaii Representative Office, Fujitsu), an introduction to Kobe University's international collaboration from Professor SHIMOMURA, and an introduction to the University of Hawai'i at Mānoa from Justin Lau (Admissions Counselor, University of Hawai'i at Mānoa).
The symposium was divided into two sessions: applied econometrics and particle physics. Both research fields are the focus of joint projects between Kobe University and the University of Hawai'i at Mānoa (one of our partner institutions). Researchers from Kobe University, the University of Hawai'i at Mānoa and other pan-Pacific institutions presented the results of joint research projects and discussed prospects for future collaboration. Attendees listened with interest to the presentations, and active debates took place during the Q&A sessions.
On July 29 before the symposium, Executive Assistant to the President Professor YUI and Professor HAMORI Shigeyuki (Kobe University Graduate School of Economics) visited the University of Hawai'i at Mānoa and discussed the strengthening of international exchange as well as cooperation regarding the activities of the new base. Their discussion included the possible expansion of academic exchange agreements and the development of student and staff mobility programs.
Kobe University will use the new base to promote further academic collaboration between Japan and the Americas.
Unveiling ceremony and kickoff symposium for the Honolulu Office of Kobe University (HOKU)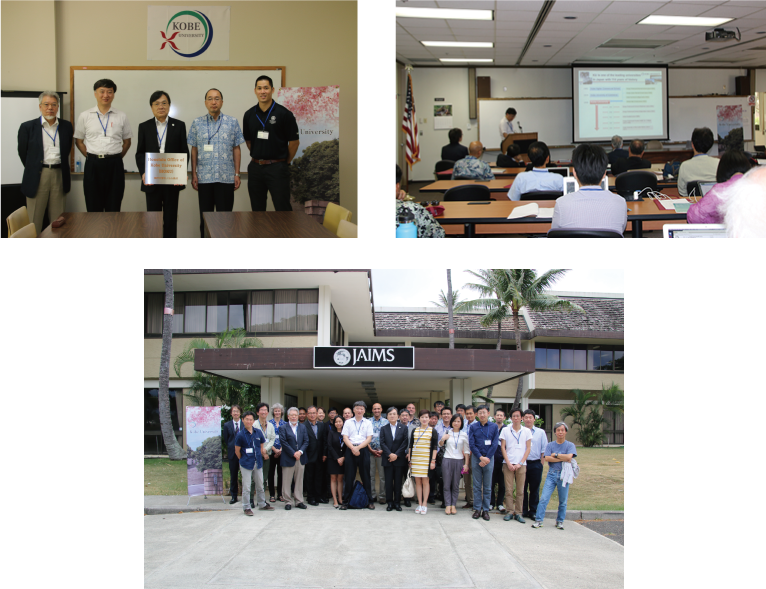 Courtesy visit to the University of Hawai'i at Mānoa

(International Affairs Planning Division)