The Consul General of the United States in Osaka-Kobe visited Kobe University
July 11, 2016
Info
Keywords: Event, International relations, Collaborations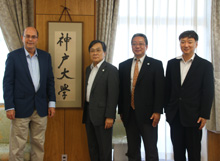 On July 7, Mr. Allen Greenberg (Consul General of the United States in Osaka-Kobe) paid a courtesy visit to Professor TAKEDA Hiroshi (President). Attendees of this meeting included Mr. IMAI Harutoshi (Public Affairs Program Assistant, Consulate General of the United States in Osaka-Kobe) and, from Kobe University, Professor INOUE Noriyuki (Executive Vice-President in Charge of International Exchange) and Professor SHIMOMURA Kenichi (Director, Office of the Americas).
In the morning of the same day, Mr. Greenberg gave a special lecture on the history and status quo of the G7 at the Graduate School of Law.
In the meeting, first the Kobe University representatives introduced the Honolulu Office of Kobe University newly opened on June 30 and the existing exchanges in the fields of Science and Economics with the University of Hawaii at Manoa. Afterwards, both sides exchanged their views on the decline in the number of Japanese students studying in the United States and on the voting participation of the younger generations in the two countries.
Through the Office of the Americas, Kobe University will continue to strengthen academic cooperation with the United States.
(International Affairs Planning Division)