Erasmus+ programme partner university staff visit Kobe University
September 27, 2016
Info
Keywords: Info, International relations, Collaborations, University partnerships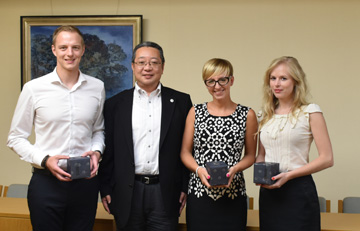 Following the Erasmus+ Staff Mobility Programme Agreement among Kobe University, Jagiellonian University, and Dresden University of Technology, two staff from Jagiellonian University and a staff member from Dresden University of Technology visited Kobe University from September 5 for five days. Erasmus+ is a European Union-funded education scheme for reciprocal exchange programmes for students and staff in higher education institutions. Jagiellonian University and Dresden University of Technology are two of Kobe University's partner universities within this programme.
At the start of their visit, the participants shared information about exchange activities between their universities and Kobe University with Professor INOUE Noriyuki (Executive Vice President in Charge of International Affairs). Professor INOUE expressed his hopes that their visit would be an opportunity to further expand trilateral exchange among the universities. During the five days, Kobe University held multiple seminars exploring international strategies and global affairs, and our visitors engaged in enthusiastic discussions. They also participated in campus tours including visits to the Graduate School of Maritime Science's marine simulator, the Maritime Museum of Kobe University, and the Graduate School of Human Development and Environment.
The University prepared additional special programs to deepen participants' understanding of Japanese culture, including an introductory seminar on Japanese culture presented by students and tours of Kobe and Kyoto. Towards the end of the week, our visitors held a seminar for Kobe University faculty and administrative staff introducing their Erasmus+ initiatives. This provided valuable opportunities to exchange information about university internationalization and Erasmus+.
Kobe University is actively involved in Erasmus+ as part of our goals for further exchange with European universities among students and staff.
(International Affairs Planning Division)