Symposium celebrating 150 years of Japan-Belgium friendship; Academic Lunch with Belgian King and Queen
October 21, 2016
Info
Keywords: Info, International relations, Collaborations
Their Majesties King Philippe and Queen Mathilde of Belgium visited Japan to commemorate 150 years of Japan-Belgium friendship. As part of the itinerary, on October 14 Kobe University invited a group of Belgian university rectors to a symposium at the Kobe University Integrated Research Center. The event focused on the results of international collaborative research projects with four of our partner institutions in Belgium.
Moderated by Professor YOSHIDA Ken-ichi (Director of the Kobe University Brussels European Center) President TAKEDA Hiroshi and His Excellency Mr. Rudy Demotte (Minister-President of the French Community of Belgium) gave opening speeches expressing their wishes for further international academic exchange between Kobe University and Belgian universities. The symposium comprised four breakout sessions: joint research on cancer with the University of Liège, joint research with Saint-Louis University on poverty, joint research on migrants and security issues with KU Leuven, and interdisciplinary research on globalization with Ghent University. These sessions reported on cutting-edge collaborative projects and provided a glimpse of future directions for research. Symposium attendees included members of the Japanese and Belgian governments, researchers, and students.
Following the symposium, the participants moved to the Hilton Osaka where an Academic Lunch was held with Their Majesties the King and Queen of Belgium. During this event, President TAKEDA and His Excellency Mr. Demotte introduced the active academic exchange taking place between Kobe University and Belgium. Following this, under the moderation of Professor SEKINE Yuki (Graduate School of Law), Professor YOSHIDA gave a report of the symposium to the King and Queen. To finish, a student from Kobe University (OKAMOTO Tatsugi, masters student in the Graduate School of Economics) and a student from the University of Liège (Quentin Schmetz, research student at Chimie biologique industrielle, Gembloux Agro-Bio Tech) talked about their study abroad experiences in Belgium and Japan.
The Kobe University Brussels European Center (KUBEC) was established in September 2010, and since then we have continued to expand our academic exchange with Belgian universities. We have concluded academic exchange agreements with nine universities in Belgium, a fruitful result of the annual KUBEC symposia and the almost monthly KUBEC workshops. This event commemorating 150 years of Japan-Belgium friendship is also a testament to our University's strong presence in Belgium. We will continue to use the Brussels European Office to promote increased collaboration in the fields of education and research between Japan, Belgium and Europe.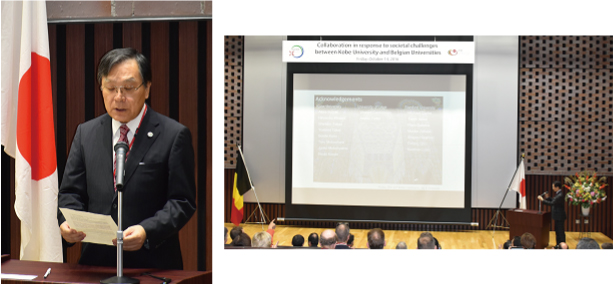 (International Affairs Planning Division)