EU Lecture Series: "What does the EU mean to Slovakia?" by the Ambassador of the Slovak Republic to Japan
November 7, 2016
Info
Keywords: Info, International relations
A special lecture titled "What does the EU mean to Slovakia?" was held by the Ambassador of the Slovak Republic to Japan, H.E. Mr. Michal Kottman, on November 1 as part of the EU Lecture Series.
This lecture was held in the class on "International Relations" that is offered by Professor SAKAI Kazunari in the 4th period of the day. In his lecture, with Slovak-Japanese consecutive interpretation, the Ambassador talked about Slovakia as a member of the EU and explained the challenges and opportunities for Slovakia during its Presidency of the Council of the EU (from July to December 2016) as well as priority issues and tangible achievements from the first half-term of the Presidency. It was explained that Slovak people have a very positive view of EU membership due to many benefits that include mainly free movement of people, students and workers in the EU and the use of the euro, the common currency. As the EU Presidency country, Slovakia is expected to act as a fair mediator, coordinating negotiations between the member states. This is not only a challenge, but also an opportunity for the country to set agenda and focus on issues of its national interest. The lecture also pointed to a number of informal summits, ministerial meetings and other events that have taken place in Slovakia during the first half-term of its Presidency where important policy issues were discussed. The issues include climate change, control of the EU external borders and future EU enlargement. During the question and answer session, a student asked Mr. Kottman about the negative aspects of EU membership for Slovakia.
President TAKEDA explained the strong academic ties of Kobe University with European universities and pointed to the latest joint research in nanophotonics between Kobe University and scientists from the four Visegrad countries. H.E. Mr. Kottman expressed his enthusiasm for further academic cooperation between Kobe University and Slovak universities.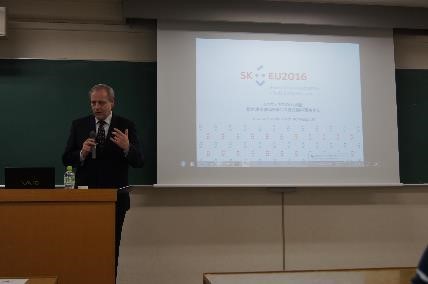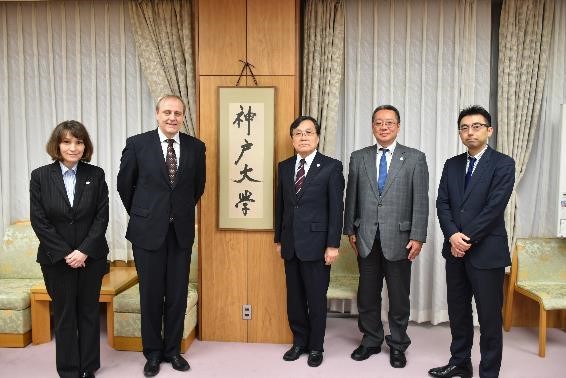 (Program Coordination Section, Center for International Education, Kobe University)