President Takeda visits Eötvös Loránd University and signs Inter-University Academic Exchange Agreement
November 17, 2016
Info
Keywords: Info, International relations, Collaborations, University partnerships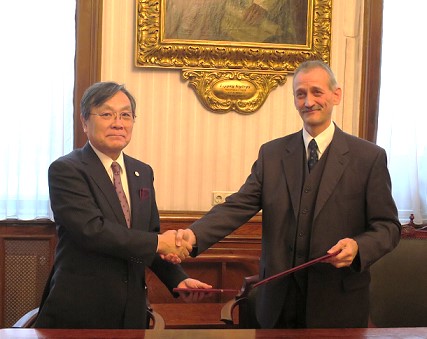 On November 10, Kobe University President TAKEDA Hiroshi visited Eötvös Loránd University in Hungary. Founded in 1635, Eötvös Loránd University (also known as ELTE) is a comprehensive public university located in Budapest, Hungary. Kobe University and ELTE researchers have engaged in academic exchange in a range of areas including humanities and environmental development.
Both universities decided to conclude an Inter-University Academic Exchange Agreement aimed at expanding their exchange activities, and the signing ceremony for this Agreement was held during President Takeda's visit to ELTE. The ceremony was also attended from Kobe University by Professor INOUE Noriyuki (Executive Vice President in Charge of International Exchange and Internal Control), Professor OGAWA Matsuto (Executive Vice President in Charge of Research and Industry-University Cooperation), and Professor YUI Kiyomitsu (Advisor to the President in Charge of International Collaboration). After mutual updates on recent developments in exchange, those attending discussed future plans for a closer partnership between our institutions.
Kobe University is using our Liaison Office in Kraków as a base in Eastern Europe for strengthening collaboration in research and education between Europe and Japan. ELTE is our first partner institution in Hungary.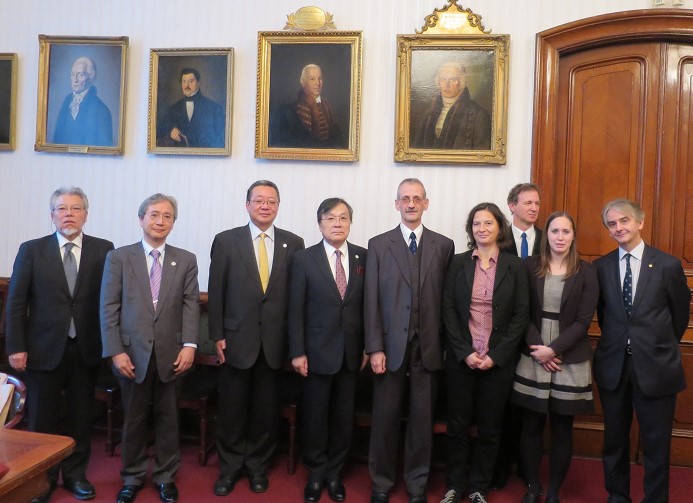 (International Affairs Planning Division)