GSICS Research Team Conducted Workshop for Vietnamese Government Officials with UNESCO Education Experts
December 26, 2016
Info
Keywords: Info, Research, International relations, Collaborations
Professor Keiichi Ogawa from the Graduate School of International Cooperation Studies (GSICS) and his research team, including UNESCO education experts, conducted a workshop on developing efficient strategies for basic education teacher placement on November 29th, 2016. The workshop was held in the Vietnamese Ministry of Education and Training (MOET) for forty MOET officers and education experts from international organizations, including World Bank, NGOs, and academia.
At the beginning of the workshop, His Excellency Dr. Bui Van Ga, Vice Minister of Education and Training, delivered an opening remark, which highlighted the importance of efficient teacher placement in Vietnam in order to enhance the high quality and equitable access to basic education. The workshop has two parts. First, the research team presented preliminary findings and recommendations based on field study evidence for enhancing efficiency and promoting equity of teacher placement in Vietnam. In the second half of the workshop, the participants were divided into small groups, and each group discussed the relevancy of the presented findings and recommendations in the local context.
This workshop was based on the joint research work with education experts at the UNESCO Regional Bureau for Education in Asia and the Pacific (UNESCO Bangkok). It is supported financially by the Ministry of Education, Culture, Science, Sports and Technology (MEXT) of Japan. During this academic year, the research team conducted field studies not only in Vietnam, but also in Cambodia and Lao PDR. Similar workshops will be held in Cambodia in December 2016 and Lao PDR in January 2017.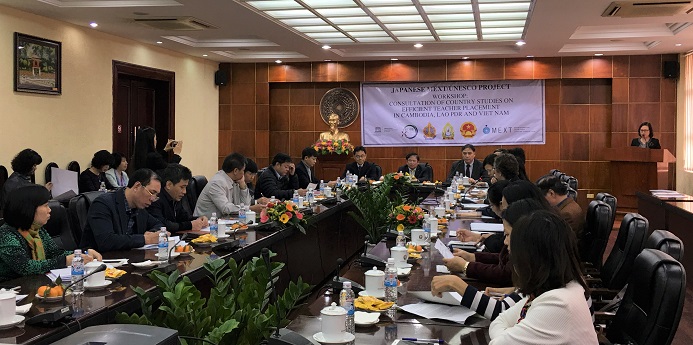 (Graduate School of International Cooperation Studies)