Visegrad Project Kick-Off Symposium held
November 6, 2017
Info
Keywords: International relations, Collaborations, University partnerships
On October 19, Kobe University held the Visegrad Project Kick-Off Symposium "The Place of V4 countries in Europe and Japan" in Jagiellonian University (Kraków, Poland). 
Kobe University was recently selected for the Visegrad University Studies Grants, and from October 2017 we are offering a course titled "The Place of V4 Countries in Europe and Japan" to study the importance of Central and Eastern Europe within the EU, connections between Japan and the region, and how this region is regarded in Japan. The course is taught with cooperation from scholars in our V4 partner universities: Jagiellonian University (Poland), Eötvös Loránd University (Hungary), Comenius University in Bratislava (Slovakia), and Charles University (Czech). The classes are open to exchange students from our partner institutions, and it forms part of the Educational Program on Current Japan, a program on Japanese culture, society, science and technology taught in English and Japanese.
Moderated by Professor YUI Kiyomitsu (Executive Assistant to the President in Charge of International Collaboration) the event started with opening addresses from Professor Marta Kudelska (Head of the Centre for Comparative Studies of Civilizations) and TADA Sanae (Director of the Japan Foundation Budapest). Both speakers expressed their hopes that the Visegrad Project would facilitate further exchange and mutual understanding between Japan and Central and Eastern Europe. In the following five sessions, researchers from consortium member institutions examined the links between Japan and Central and Eastern Europe from the perspectives of their respective countries. The attendees listened with interest and active discussions took place during the question and answer sessions.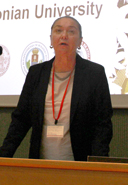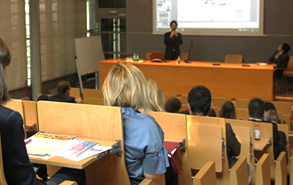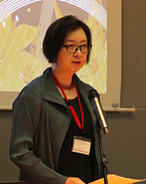 Alongside the Visegrad Project Kick-Off Symposium, a signing ceremony was held for a Memorandum of Understanding regarding the Joint Lecture Series with Jagiellonian University. The signing ceremony was attended by Professor INOUE Noriyuki (Executive Vice President in Charge of International Exchange) and Professor Armen Edigarian (Vice-Rector for Educational Affairs) who each spoke about their vision for expanding exchange between our institutions and increasing participation from faculty members and students. Kobe University is aiming to expand international exchange by sending our faculty members overseas to hold lecture series at partner institutions. We have organized faculty dispatch programs with the Jagiellonian University Centre for Comparative Studies of Civilizations since 2014, and with their Faculty of Law and Administration since 2016. This Memorandum of Understanding was concluded on an inter-university level to support programs about Japanese Studies and European Studies. It covers mutual dispatch of faculty members between our institutions, and it will expand the current programs linked to the unit dispatch system.
Five faculty members and two PhD students from Kobe University participated in an intensive lecture series on Contemporary Japanese Culture and Society from October 16-20. The series was attended by many students from Jagiellonian University with an interest in Japan. Professor YOSHIDA Ken-ichi (Graduate School of Science, Technology and Innovation) participated in this lecture series. He previously visited Jagiellonian University as part of an Erasmus+ initiative, when he held lectures and discussions related to biotechnology at the Jagiellonian University School of Medicine. During this lecture series he presented the history and technology behind sake, providing an opportunity to introduce Japanese culture to students at Jagiellonian University.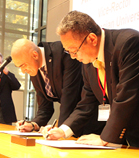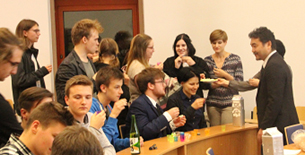 In October 2015 Kobe University established a liaison office in Kraków, Poland, and we have been actively involved in exchange with partner universities in Central and Eastern Europe such as Jagiellonian University, including Erasmus+ programs. Kobe University will continue to promote academic collaboration between Japan and Central and Eastern Europe.
(International Affairs Planning Division)