Visit from Vice-President of University of Strasbourg
December 28, 2017
Info
Keywords: Info, International relations, University partnerships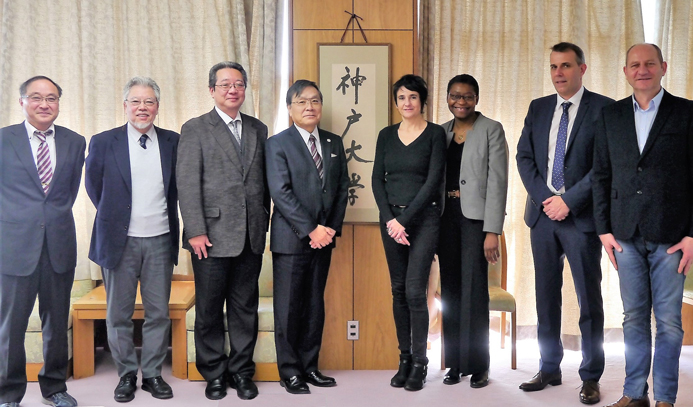 On December 15, a delegation led by Prof. Christelle Roy (Vice-President Strategies and Development, University of Strasbourg) paid a courtesy visit to Prof. TAKEDA Hiroshi (President, Kobe University). In 2013 Kobe University and the University of Strasbourg concluded an academic cooperation agreement; later in 2016, Kobe University's Graduate School of Maritime Sciences concluded a cotutelle agreement. Prof. Roy's visit to Japan included the attendance at the cotutelle hearing, and she was accompanied by Prof. Rémi Barillon (Hubert Curien Pluridisciplinary Institute [IPHC], University of Strasbourg), Prof. Michel Fromm (University of Franche-Comté), and Dr. Yvette Ngono Ravache (CIMAP-CIRIL-Ganil). The attendees of the meeting from Kobe University were Prof. INOUE Noriyuki (Executive Vice-President), Prof. YUI Kiyomitsu (Executive Advisor to the President), and Prof. YAMAUCHI Tomoya (Graduate School of Maritime Sciences).
First, Prof. Roy and Prof. Barillon made presentations on the University of Strasbourg and IPHC respectively. As Prof. Roy is the former director of IPHC and both Prof. Barillon and Prof. Roy specialize in nuclear physics and chemistry, both sides exchanged views on the importance of research cooperation through international frameworks and collaborations between national research institutes and universities. Prof. Barillon and Prof. Yamauchi explained that their long-term research exchanges and joint researches led to the introduction of cotutelle.
The University of Strasbourg is located in the political center of Europe, where various international organizations such as the European Court of Human Rights are present, and has produced many eminent figures also in the humanities and social sciences. In view of this, both sides agreed to expand their cooperation to these new areas and also other areas in the natural sciences.
After the meeting with President Takeda and prior to the cotutelle hearing, Prof. Roy and Prof. Barillon paid a courtesy visit to Prof. NISHIO Shigeru (Vice-Dean, Graduate School of Maritime Sciences) and explained that the research carried out by the cotutelle PhD candidate is highly excellent. The cotutelle hearing itself ended in success.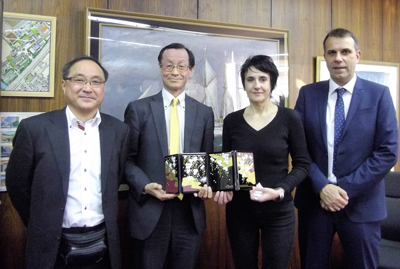 Kobe University hopes that this visit will further strengthen the ties with the University of Strasbourg.
(International Affairs Planning Division)
(Graduate School of Maritime Sciences)