President Takeda attends Japan-China University Fair & Forum
May 25, 2018
Info
Keywords: International relations, Collaborations, University partnerships
Kobe University President Hiroshi Takeda visited China from May 12 to 14 to attend the "Japan-China University Fair & Forum in CHINA 2018" organized by the Japan Science and Technology Agency. He was accompanied from Kobe University by Professor Zhi-wei Luo (Director of the Kobe University China Office), Project Assistant Professor Sheng Cao (Graduate School of System Informatics), and Mr. Satoshi Tsuzuki (Head of the International Affairs Department).
On May 12, the group participated in individual meetings between presidents of Japanese and Chinese universities. This event was organized to provide an opportunity for dialogue between university leaders from both nations. It was attended by 35 Japanese higher education institutions and numerous Chinese organizations. As well as previously arranged meetings with 6 Chinese institutions (the Chinese University of Hong Kong (in Shenzhen), Guangdong University of Technology, Shantou University, Dalian University of Technology, Lanzhou University, and the University of International Business and Economics) representatives from Kobe University also held individual meetings with other organizations including Guangzhou University, Sun Yat-sen University, and South China University of Technology, and discussed potential future exchange.
Parallel to these sessions a Japanese technology exhibition was held, introducing Japanese research outcomes and technology seeds to representatives in charge of industry collaboration at Chinese higher education organizations. Representing Kobe University, Professor Luo and Project Assistant Professor Cao introduced engineering technology to support aging societies. Population aging is a key issue in China as well, and they extended the exhibition time due to the high level of interest from Chinese researchers.
On the following day Professor Takeda's delegation participated in the Japan-China University Forum, an event held to promote university exchange and study abroad initiatives, and to present and discuss common issues between Japan and China in industry collaboration and other areas. The event was divided into morning and afternoon sessions. In the morning there were guest speeches from representatives of the Guandong Province Human Resources and Social Security Department, China's Ministry of Science and Technology, and Japan's Ministry of Education, Culture, Sports, Science and Technology. These were followed by keynote speeches from the China Association for the International Exchange of Personnel and the Organization for Small & Medium Enterprises and Regional Innovation about training human resources for Japanese and Chinese industry.
The afternoon featured five breakout sessions, and President Takeda gave a speech in the session on university management philosophy. This session included presentations from 11 Japanese and Chinese universities about their initiatives to stand out from the crowd against a background of rapidly developing globalization. An active discussion took place.
Through this event, Kobe University's representatives reaffirmed the attendees' high levels of interest in industry collaboration, innovation and the training necessary to achieve this. This fruitful visit has contributed to strengthening our relations with universities in China.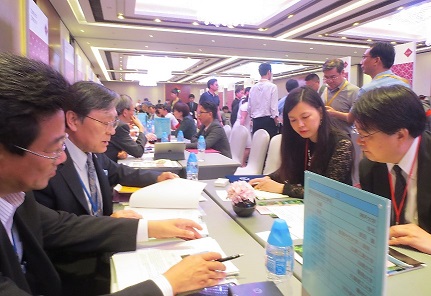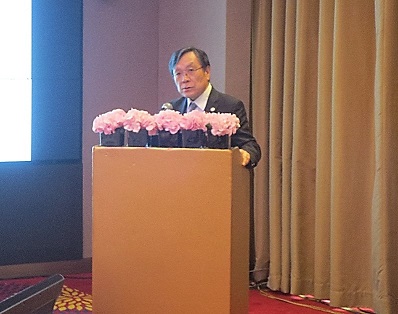 (International Affairs Planning Division)