Visit from the University of Western Australia
June 14, 2018
Info
Keywords: Info, International relations, University partnerships
On June 7, Professor Kent Anderson (Deputy Vice-Chancellor for Community and Engagement at the University of Western Australia) visited Professor Kan Kimura (Director of the Center for Asian Academic Collaboration). The initial meeting was also attended from Kobe University by Professor Zhi-wei Luo (Director of the Kobe University China Office) and Associate Professor Masato Karashima (Graduate School of Intercultural Studies).
The University of Western Australia and Kobe University have concluded an inter-university academic exchange agreement and memorandum of understanding for student exchange, and we are actively involved in joint research and student exchange. Hyogo Prefecture and Western Australia have a sister state relationship, and there is a Hyogo Prefectural Government Cultural Center located in the state capital of Perth, the same city as the University of Western Australia. Kobe University implements an overseas internship program at this Cultural Center.
During the meeting, both sides actively discussed the implementation of joint research, faculty and student exchange, and developing joint education programs and internship programs using the range of resources from our universities, based on our close partnerships at municipal and institutional levels. Participants also exchanged opinions about overseas development and global networking at both institutions.
On the same day, Deputy Vice-Chancellor Anderson visited Professor Akihiro Okada (Dean of the Faculty of Global Human Sciences) and Professor Tetsu Sakurai (Dean of the Graduate School of Intercultural Studies). As well as confirming the importance of further collaboration between our institutions, they discussed how to develop mutual exchange in education and research. This meeting was also attended by representatives from the Global Studies Program (GSP) Office at the Faculty of Global Human Sciences: GSP Office Director Professor Takuya Nishitani (Graduate School of Intercultural Studies) and GSP Office Coordinator Assistant Professor Shinnosuke Takahashi (Faculty of Global Human Sciences).
We look forward to further internalization and an increase in exchange and collaboration between our institutions as a result of this visit.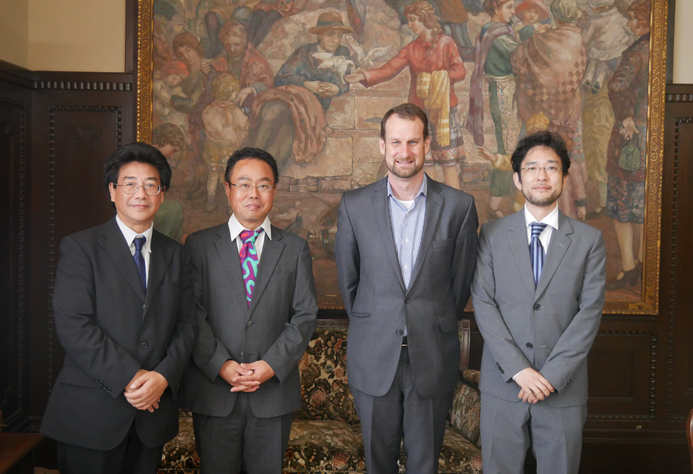 Director Kimura (left from center) wears a necktie gifted by Professor Anderson
(International Exchange Planning Division)