Erasmus+ staff mobility programme: visit from University of Trier professor
November 26, 2018
Info
Keywords: International relations, Business, Business management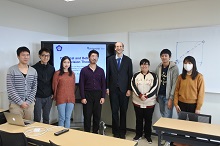 Following the Erasmus+ Staff Mobility Programme Agreement between Kobe University and the University of Trier, Professor Marc Oliver Rieger visited Kobe University for five days from November 12.
The University of Trier and Kobe University are active exchange partners in research and education. Our institutions concluded an inter-university academic exchange agreement on June 2, 2015, followed by a memorandum of understanding for student exchange on November 2, 2016.
On March 20, 2018, the University of Trier and Kobe University concluded an Erasmus+ agreement and began our staff mobility. Erasmus+ is a European Union education funding scheme that promotes exchange of students, teaching staff and administrative staff between universities. We have high expectations for future student and staff exchange with the University of Trier based on this initiative.

During his five-day visit, Professor Rieger held graduate-level classes at Kobe University's Rokkodai 1st Campus in his specialist fields of behavioural decision theory and behavioural finance. The classes were attended by graduate students affiliated with the Graduate School of Business Administration, the Graduate School of Economics, and the Graduate School of International Cooperation Studies, as well as professors working in related fields (15 people in total). Alongside the classes, Professor Rieger also engaged in research exchange with Associate Professor Koji Abe.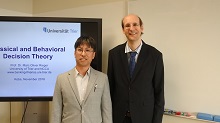 (Graduate School of Business Administration)