PhD Workshop China 2018 in Beijing
November 27, 2018
Info
Keywords: International relations
On November 17 and 18, Kobe University participated in PhD Workshop China 2018 in Beijing. This workshop has been held every year since 2009, using an interview-style format to facilitate the exchange of information between Chinese students interested in pursuing PhDs abroad and overseas institutions, primarily universities.
This year approximately 70 universities including 13 graduate institutions participated from 13 countries around the world. Kobe University participated for the fourth time, with representatives from the Center for Asian Academic Collaboration, the Graduate School of Engineering, the Graduate School of Science and the Graduate School of Maritime Sciences. There were many universities from the European Union, including 22 graduate institutions from the Netherlands and France, and 20 from Germany. From Japan, as well as Kobe University representatives, members of the Beijing Office of the Japan Society for the Promotion of Science (JSPS) also attended.
The workshop focused on the individual booths of participating institutions, and our booth welcomed 88 prospective students over two days. During the individual consultations, Professor Huang Lin (Vice-Director of the Center for Asian Academic Collaboration), Professor Yuping Sun (Graduate School of Engineering), Professor Yoshiyuki Hayashi (Graduate School of Science) and Professor Haruo Mimura (Graduate School of Maritime Sciences) answered a variety of questions covering the details of research projects, entrance examinations for each graduate school, skills and qualifications required to enter, and scholarships and tuition feeds.
Among the students who had booked consultations with us, some had already researched their potential supervisors, and of them enthusiastically asked questions. We look forward to more outstanding students from China enrolling in Kobe University's doctoral programs as a result of our participation in this workshop.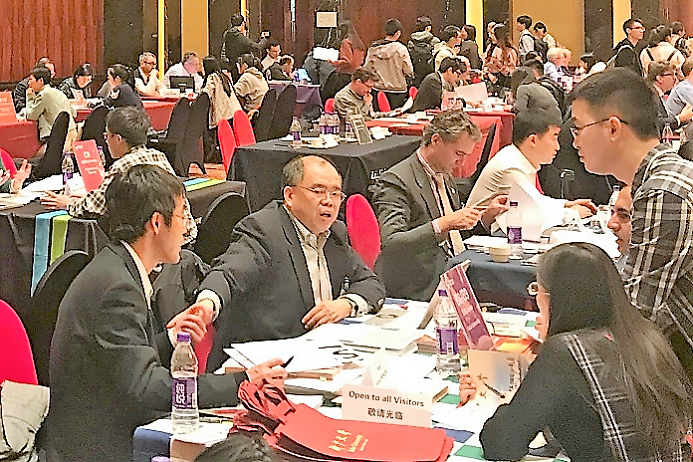 (International Affairs Planning Division)