Visit from the Consulate General of the Republic of Korea in Kobe
January 9, 2019
Info
Keywords: International relations
On December 18, Consul-General of the Republic of Korea in Kobe Mr. Ki-Jun Park paid an inaugural visit to Kobe University President Hiroshi Takeda. Their meeting was also attended by Consul Sang-Ik Kang, Secretary Cheol-Hong Kim, Researcher Seong-Ah Ju, and Korean Education Director for Kobe Hyeon-Mi Song. From Kobe University Professor Noriyuki Inoue (Executive Vice President in Charge of International Exchange) and Professor Kan Kimura (Director of the Center for Asian Academic Collaboration) attended the meeting.
The visit began with a greeting from Consul-General Park, who took up office in October 2018. He expressed his view that continued academic exchange and educational activities are particularly important in order to expand and substantially develop the bilateral relationship between the Republic of Korea and Japan. President Takeda responded with words of welcome, and spoke of his wish to further promote exchange in education and academic fields between Kobe University and universities and institutes in the Republic of Korea.
During the meeting, Executive Vice President Inoue outlined the flourishing student and faculty exchange between Kobe University and universities in the Republic of Korea, illustrating the smooth development of academic exchange and collaboration between both sides. Center Director Kimura introduced concrete examples of this exchange such as the CAMPUS Asia Program, demonstrating how the collaborative relations between our University and universities in the Republic of Korea are expanding in various forms among multiple countries and universities based on consortium formats. He also talked about potential modes of collaboration, including links with industry and local communities. As well as exchanging opinions on the employment prospects for university graduates from both countries, the members also discussed common issues for both countries such as dealing with shrinking populations and aging societies, urban renewal, and bold initiatives for future societies.
We look forward to further strengthening Kobe University's relationship with the Consulate General of the Republic of Korea in Kobe and expanding exchange with higher education institutions in the Republic of Korea.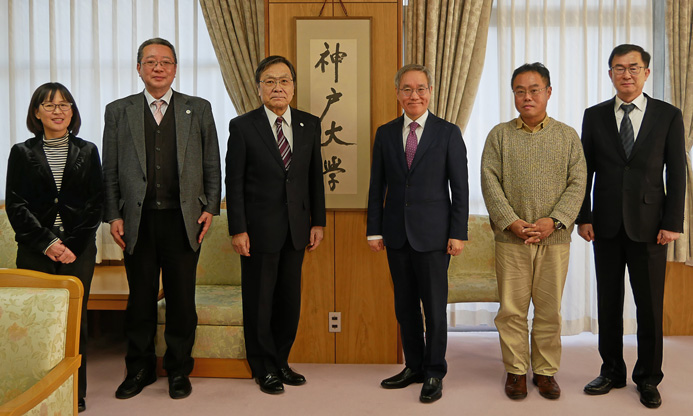 (International Affairs Planning Division)