Visit from the Lord Provost of Aberdeen
January 18, 2019
Info
Keywords: International relations, Collaborations, University partnerships
On January 10, the Lord Provost of Aberdeen Mr. Barney Crocket visited Kobe University President Hiroshi Takeda. The Lord Provost was accompanied by Senior Executive Mr. Yasa Ratnayeke and a contingent from the Kobe City Government. The meeting was also attended from Kobe University by Professor Keiji Oda (Executive Vice President in Charge of Research Promotion) and Professor Makoto Uchida (Dean of the Graduate School of Maritime Sciences).
The city of Aberdeen is located on the east coast of Scotland, with a population of roughly 210,000. It is a leading business hub with an active seaport, and strong links with both Kobe University and Kobe City Government. In June 2018 our Graduate School of Maritime Sciences concluded a Memorandum of Understanding with Robert Gordon University in Aberdeen, and in September 2018 students from our University attended the inaugural Kobe City-RGU summer school on marine industries. The day before the Lord Provost's visit to President Takeda, on January 9, Aberdeen City Council and Kobe City Government signed a Memorandum of Understanding pledging to collaborate in ocean-related business, renewable energy sources and cultural partnerships.
During the meeting the participants discussed the current global political climate, including Brexit, Scottish independence, and the importance of the relationship between Japan and the United Kingdom. The Lord Provost emphasized the common features of Kobe and Aberdeen, including their importance as port cities, focus on renewable energy sources, and strengths in the area of medical sciences. The attendees also talked about the potential for expanding collaboration in maritime science, clean energy and other fields.
After the meeting, the Lord Provost visited the Kobe University Centennial Hall to take in the city views including the integration of harbor and city and the juxtaposition of the sea and the mountains.
We look forward to strengthening our ties with the city of Aberdeen and its academic institutions.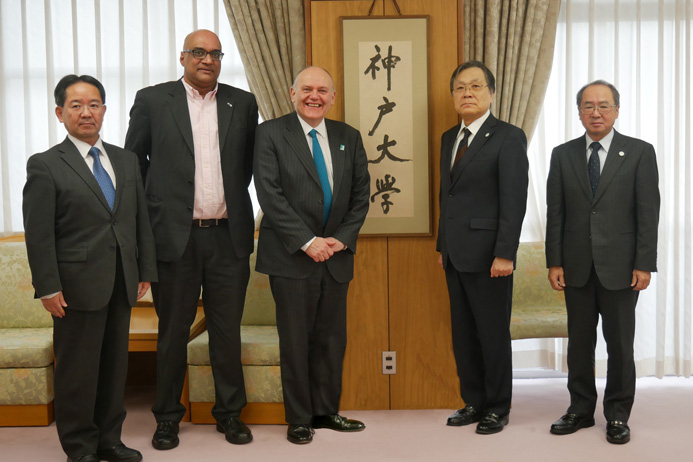 (International Affairs Planning Division)