New Year greetings from President Takeda on the occasion of his reappointment
January 24, 2019
Info
Keywords: Info, Grants & funding, Education, Public dialogue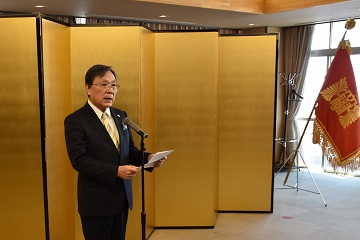 I wish you all a happy and healthy new year for 2019 and I hope that you had a pleasant break. In November last year I was reappointed as President of Kobe University for a second term of two years, starting from April, so I prepared for the New Year with a feeling of solemnity.
Four years ago, when I was appointed University President in April 2015, I drew up a new vision of "an outstanding research university excelling in advanced and integrated research in the humanities and sciences", and at the same time set the goals of "top five in Japan, top 100 in the world". I deliberately set ambitious targets, including putting the University forward for MEXT Special Support Category 3 to "promote first-class education and research on par with the world's top universities". I don't think we should be overly influenced by university rankings, but I believe that Kobe University can do even better. Thanks to everyone's efforts, the number of research papers published and joint research projects with businesses have increased, and we obtained a high mid-term evaluation grade in the Program for Promoting the Enhancement of Research Universities. These results are thanks to the efforts of each and every member of our faculty and staff, and I am grateful to you all. I believe that these initiatives and outcomes have created a strong mind-set among University members regarding our goal to become a top research university. I will continue to give my all to preserve Kobe University's place competing with the world's top universities, but I need the cooperation of all our faculty and staff.
As Dean of the Faculty of Science I was previously involved in a reform of the science-focused graduate schools, and during six years as Executive Vice President in Charge of Research, followed by my time as President, my colleagues and I have worked hard to strengthen the University's research abilities. We have promoted creative, innovative research that fuses the humanities and sciences by improving the Integrated Research Center on Port Island, establishing the Graduate School of Science, Technology and Innovation, and installing the Organization for Integrated Research. We have strengthened the field of data science through the Center for Mathematical and Data Sciences and the Center for Computational Social Science. Beneath all these initiatives is an undercurrent of growing competition and cooperation within the University. We have succeeded in banishing lukewarm attitudes and demonstrated concrete results in each field based on the new independence of the natural sciences graduate schools. We have promoted multidisciplinary research that takes advantage of the special traits of this University: our strengths in the social sciences and the low barriers between graduate schools, traits that the old Imperial Universities lack. I will continue to pursue these goals. To achieve this, as I said in November's press conference, I am committed to further strengthening and reforming our research framework. We will now focus on the Graduate School of Maritime Sciences, which has many research resources and traditions from its time as the Kobe University of Mercantile Marine. The Kobe Ocean-Bottom Exploration Center was established to take advantage of these resources through co-creation with other fields in our university, but we need to further strengthen joint research and integrated research, incorporating the social sciences, and carry out reforms that show the strengths of the Graduate School of Maritime Sciences acting within a comprehensive university.
From a research perspective, I believe that scientific creativity using the training ships holds great possibilities that are not limited to the Kobe Ocean-Bottom Exploration Center. I want to build a research framework that connects maritime sciences with our other science graduate schools, and use this to improve research abilities throughout the university. From the perspective of mariner training too, we need reforms that look ahead to the role of top mariners in the era of artificial intelligence. We must also train people who can contribute to formulating international maritime regulations. The Graduate School of International Cooperation Studies has invested in training international officials, and with the Graduate Schools of Law, Economics, Business Administration, I want to draw on their knowledge and expertise to further raise education standards in Maritime Sciences.
Reflecting on my first term as University President, I think we should have placed a bit more emphasis on liberal education. When we had a Department of Liberal Arts and Sciences there was a clear framework of responsibility, but now it has become less apparent which faculty is responsible for each liberal education course. While the Faculty of Science is clearly responsible for providing courses in mathematics and physics, when it comes to subjects such as languages that are coordinated by professors from multiple faculties, the framework becomes vague. When language professors retire and the position becomes vacant, there is a tendency across all faculties and graduate schools to hire researchers with non-language expertise, based on the idea that we need people who can guarantee future research achievements. Going forward, as part of my leadership as President, I will implement a policy to ensure that we have enough faculty members in the essential fields of liberal education.
In the coming year, the first important matter for consideration is the problems surrounding university entrance examinations that became clear over the course of 2018. The School of Medicine (Faculty of Medicine) gave preferential treatment to applicants from rural areas, causing worries and inconvenience not only for the affected examinees and their guardians, but also for those planning to apply to our University in the future and people from the affected regions. Kobe University staff and faculty are doing their best to respond to every case. I hope that all University members will apply themselves to the upcoming entrance examination season while keeping firmly in mind that as university employees, we are involved in important work that impacts the lives of these students. Last year there were various other problems in addition to the entrance examinations, and the organizational management behind these issues is being questioned anew. For everyone gathered here today who is involved in management, I would like you to look again at the governance framework of each organizational structure and check for flaws in your day-to-day operations. Please make any reforms and improvements from the perspective of "how we should do things from now on" rather than "how things have been until now".
Management Expenses Grants appear to have stopped declining, but each university in Special Support Category 3 has to contribute 1.6%, and reallocation of these funds will continue based on the results and evaluation of functional enhancement. Until now we have weathered the situation by securing external and competitive funding, but the latest changes will be a hard blow for the financial foundations of national university corporations. The Cabinet Office and the Ministry of Finance think that the current methods of reallocation are lukewarm, and are moving towards expanding the upper and lower range for allocation of funds. The total grant contributed by the 86 national university corporations based on different support categories amounts to 10 billion yen a year, but 10% of next year's 1 trillion yen budget for Management Expenses Grants, 100 billion yen, will be up for assessment. We still do not know the details of this system, but in the worst case there are concerns that it will become hard to cover personnel expenses. Headed by the National University Association, we will of course make a strong case for a stable and secure basic budget and a personnel budget that can ensure the employment of young researchers. However, as individual universities we must strive for more effective management and improved research results, and secure new methods of obtaining funds.
This how it stands, so the next two years will not be a simple case of putting the final touches on my time as president – instead, the fight to survive will continue, and I am prepared. Behind the measures of the Cabinet Office and Ministry of Finance, there is the mistaken assumption that universities are "soaking in lukewarm water". In order to break down this prejudice, as I said at the start, one of the keys will be speeding up decision-making and operations based on organizational reforms. Some key issues cannot be decided without the approval of the authorities concerned, but for all staff members I urge you to speed up operations, challenge yourselves to try new things, and send a strong message to society that, including its role as a national university, "Kobe University is changing". I ask all members of the University to take pride in your part in this organization, and whatever your role may be, to contribute to the University and the development of knowledge to your full capacity. This brings me to the end of my New Year's address.
Hiroshi Takeda
Kobe University President
(Translation of a speech given on January 4, 2019)