Relay lecture held as part of Joint Lecture Series Programme with Jagiellonian University
January 29, 2019
Info
Keywords: International relations, University partnerships, Education, Humanities, Natural sciences
In autumn 2018 five faculty members from Kobe University held a relay lecture on the theme of "Contemporary Japan in Global Perspective", based on a Joint Lecture Series agreement concluded with Jagiellonian University.
Kobe University is expanding international exchange through unit dispatch systems in which our faculty members visit partner institutions to hold lectures, and we have been sending faculty members to the Jagiellonian University Center for Comparative Studies of Civilisations since 2014. On October 19, 2017, we concluded an inter-university agreement for mutual faculty mobility with Jagiellonian University to hold a lecture series on Japanese and European studies. The 2018 relay lecture was the second event to take place at Jagiellonian University under this agreement. Kobe University professors from the Graduate School of Intercultural Studies, the Graduate School of Humanities, and the Graduate School of Engineering participated in the relay lecture to realize a multidisciplinary event. The lecture was attended by many students from Jagiellonian University with an interest in Japan, and received positive feedback. In the 2019 academic year, in addition to the faculty dispatch system we are also planning for Jagiellonian University members to visit Kobe University and give a relay lecture.
Jagiellonian University concluded an inter-university academic exchange agreement with our institution in 2013. We are engaged in active exchange: in addition to the agreement, our institutions are also members of a consortium for student exchange supported by the European Commission and Japan's Ministry of Education, Culture, Sports, Science and Technology as part of a joint education program with the EU-Japan Advanced Multidisciplinary Master Studies Program (EU-JAMM). In October 2015, with the cooperation of Jagiellonian University, Kobe University established the Liaison Office in Kraków, providing a base to engage in academic collaboration with universities in Central and Eastern Europe.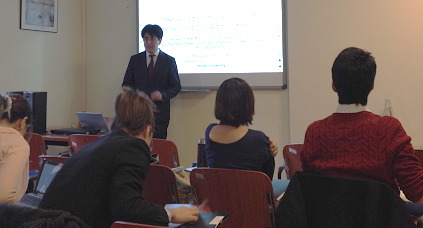 (International Affairs Planning Division)