GSICS Research Team Conducted Workshop on Innovative Partnership and Financing Mechanisms for ECCE in Viet Nam, Lao PDR and Cambodia Government Officials with UNESCO Education Experts
February 4, 2019
Info
Keywords: Info, International relations, Education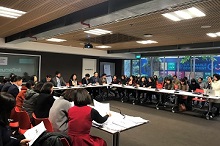 Professor Keiichi Ogawa and his research team from the Graduate School of International Cooperation Studies (GSICS), in collaboration with UNESCO education experts, conducted three workshops in Viet Nam, Lao PDR and Cambodia from January 21st to 25th, 2019. The theme of the workshops is "Exploring Innovative Partnerships and Financing Mechanisms for Ensuring Early Childhood Care and Education (ECCE) for All", and the team shared research findings with more than 120 ministry of education officials, including vice education ministers and director generals, as well as education experts from academia, international organizations and NGOs in three countries. The workshop held in Vientiane, Lao PDR was featured in the national Lao and English newspapers.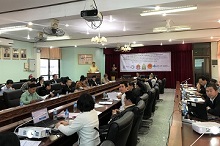 Each workshop started with the opening remarks of vice education ministers, and the UNESCO Representative, Ms. Kyungah Kristy Bang of UNESCO Regional Bureau for Education in Asia and the Pacific (UNESCO Bangkok), presented regional guidelines on innovative financing mechanisms and partnerships for ECCE as a result of their recent ECCE projects in the Asia Pacific region. Then, the GSICS research team presented preliminary findings focused on demand-side financing ECCE studies and policy recommendations for the three countries. After active question and answer sessions on innovative partnership and financing mechanisms for ECCE in these countries, the participants were divided into five small groups—each group discussed the relevance of the findings and recommendations considering the country's local context.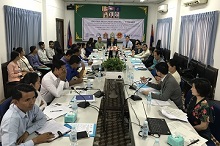 This workshop was based on the joint research work with education experts at UNESCO Bangkok. It is supported financially by the Ministry of Education, Culture, Science, Sports and Technology (MEXT) of Japan. The research team will update the country case study reports incorporating feedback received at these workshops and develop a synthesis report in English and three local languages. The team will further share the report with the governments for their policy reform of the ECCE stub-sector to meet the Sustainable Development Goals (SDGs) target.
(Graduate School of International Cooperation Studies)