Academic events jointly held with Japan Foundation Budapest
February 22, 2019
Info
Keywords: Event, International relations, Collaborations, Grants & funding, Education, Humanities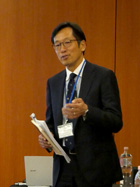 On February 2 and 3 the Network Meeting for Japanese Studies in Central-Eastern Europe in Budapest took place, co-organized by Kobe University and Japan Foundation Budapest.
This event provided an opportunity for faculty heads from key universities representing the field of Japanese studies in Central and Eastern Europe to discuss current trends in research and education on Japan. Kobe University was represented by the event's moderator Professor Kiyomitsu Yui (Executive Assistant to the President in Charge of International Collaboration) and Professor Tetsu Ichizawa(Graduate School of Humanities) who gave a special lecture titled "Reconsideration of Princess Mononoke – A Historian's perspective" introducing the influence of Japan in popular culture. The participants discussed various issues related to Japanese studies, including the link between Japan-related research and pop culture, and the career paths of Japanese studies students. The special lecture by Professor Ichizawa received high praise as an example of a solution to some of these issues.
On February 4, Kobe University and Japan Foundation Budapest jointly held a lecture for the general public titled "The Way to Preserve Historical Documents in the Community". From Kobe University, Professor Ichizawa took the rostrum. As well as introducing new initiatives for the preservation and use of historical materials in Japan, he also emphasized the importance of how people handle historical materials. This is because, in addition to the academic research applications, our treatment of historical materials is connected to the kind of societies we create. The lecture opened with a speech from Professor Gábor Sonkoly (Dean of the Faculty of Humanities at Eötvös Loránd University) and was attended by approximately 80 people from universities and governmental organizations in Central and Eastern Europe.
The Japan Foundation Budapest and Kobe University regularly collaborate to hold joint seminars, and we have worked together to implement various international exchange initiatives in Central and Eastern Europe, including an agreement to facilitate internships. We will continue to work with the Japan Foundation Budapest to promote the expansion of academic exchange with Central and Eastern Europe.

(International Affairs Planning Division)